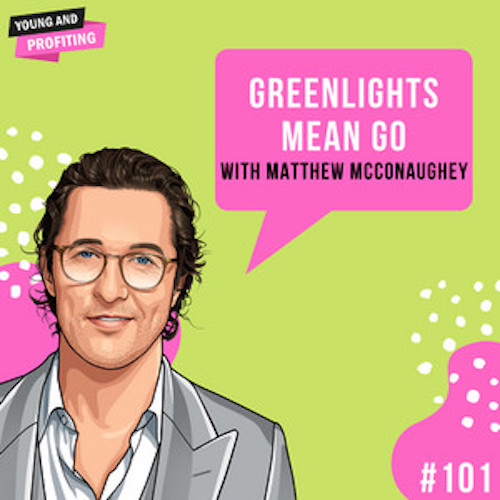 #101: Greenlights with Matthew McConaughey
#101: Greenlights with Matthew McConaughey
Alright, Alright, Alright!
You all know and love our guest this week. Matthew McConaughey is a Texas native and one of Hollywood's most sought-after leading men. Matthew first broke out on the scene with the cult classic Dazed and Confused. Since then, he has won an Academy Award for his portrayal of Ron Woodroof in Dallas Buyers Club, appeared in more than 40 feature films that have grossed more than $1 billion, and become a producer, creative director, and philanthropist. Matthew has been in cult-classic movies such as How to Lose a Guy in 10 Days, Dallas Buyers Club, Dazed and Confused, Interstellar, and more! Aside from being one of our generations most popular actors, he and his wife Camila are the founders of the Just Keep Livin' Foundation, and he serves as the Minister of Culture/M.O.C. and a full time professor for the University of Texas. On top of all of these accomplishments, Matthew is now a best-selling author. His first book Greenlights is a #1 New York Times Bestseller and has already received rave reviews.
In this episode, we discuss Matthew's childhood and how his family instilled confidence in him from a young age, his dedication to journaling throughout his life, and his early film beginnings. We'll then get into how he landed his breakout film roles, why he took a break from acting to reinvent his image, the meaning behind the title of his new book, Greenlights, and some great life lessons he has to share.
Sponsored by Podcast Republic: https://www.podcastrepublic.net/podcast/1368888880
Clubhouse Master Negotiation on Feb 2nd Event with John Lee Dumas, David Meltzer, Heather Monahan and more!:
https://www.joinclubhouse.com/event/9mWKeJnm
Timestamps:
02:41 – Why Matthew Wrote a Book Instead of Making a Movie
04:35 – Matthew's Process of Writing the Book and Journaling
09:18 – What Does "Green Lights" Mean?
12:53 – Why 'Unbelievable' is a Horrible Word to Matthew
15:13 – Being "Little Mr. Texas"
17:40 – Origin of Matthew's Confidence From Childhood
22:40 – Turning a 'Red Light' into a 'Green Light'
29:04 – Matthew's Decision to Go to a Cheaper College
32:46 – Why Matthew Went to Film School
37:45 – How He Got His Part in 'Dazed and Confused'
45:56 – Experience with Romantic Comedy Movies
52:55 – How Matthew Deals with Celebrity Status
59:16 – The Just Keep Livin Foundation
1:01:32 – Matthew's Secret to Profiting in Life
Mentioned in the Episode:
Matthew's Book, Greenlights: https://greenlights.com/
Matthew's Instagram: https://www.instagram.com/officiallymcconaughey/
Just Keep Livin Foundation: https://www.jklivinfoundation.org/
Social Media:
Follow YAP on IG: www.instagram.com/youngandprofiting
Reach out to Hala directly at [email protected]
Follow Hala on Linkedin: www.linkedin.com/in/htaha/
Follow Hala on Instagram: www.instagram.com/yapwithhala
Follow Hala on ClubHouse: @halataha
Check out our website to meet the team, view show notes and transcripts: www.youngandprofiting.com