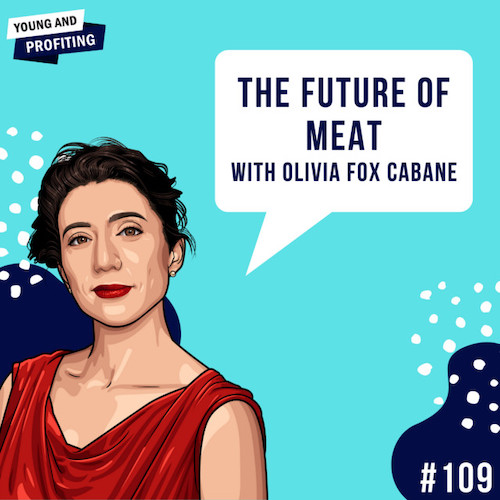 #109: The Future Of Meat with Olivia Fox Cabane [Industry Spotlight: Alternative Protien]
#109: The Future Of Meat with Olivia Fox Cabane [Industry Spotlight: Alternative Protien]
Is alternative meat the future of food?
In today's episode, we are chatting with Olivia Fox Cabane, a best selling author, public speaker, and co-founder of Kindearth.Tech. Olivia is known as the author of The Charisma Myth and her upcoming release, The Genius Myth. She has taught leadership, innovation, genius, and charisma at Harvard, Yale, MIT, and the United Nations. She previously worked as a columnist for Forbes and The Huffington Post, and has been featured in The New York Times and The Wall Street Journal.
In this episode, we chat about the charisma and genius myths, the alternative meat industry, and cell agriculture. We'll also talk more about Olivia's definition of meat, the issues the industry faces, and the future of alternative meat.
For 50% of your first Care/Of order go to www.TakeCareOf.com and enter code YAP50.
Social Media:
Follow YAP on IG: www.instagram.com/youngandprofiting
Reach out to Hala directly at [email protected]
Follow Hala on Linkedin: www.linkedin.com/in/htaha/
Follow Hala on Instagram: www.instagram.com/yapwithhala
Follow Hala on ClubHouse: @halataha
Check out our website to meet the team, view show notes and transcripts: www.youngandprofiting.com
Timestamps:
03:50 – Olivia's Transition from Author Into the Alternative Meat Industry
06:31 – How Charisma Myth, Genius Myth, and Alternative Protein are Related
09:15 – What Are Alternative Protein Maps?
13:05 – How Big is the Alternative Protein Industry?
14:42 – Olivia's Definition of Meat
16:12 – What Does Cell Agriculture Look Like?
18:40 – The Arguments Against Cell Agriculture
22:38 – Agriculture Isn't a Revolution of Food, It's the Logical Evolution of Food
24:42
– The Global Protein Crisis
26:58 – Why Gen Z Will Get People to Stop Eating Meat
31:25
– Why Gen Z & Millennials Are More Open to Cell-Based Meat
34:50 – The Barriers of the Industry
37:12 – What is the Scope of the Industry?
44:04 – Where Can People Learn More About Cell Agriculture?
49:51 – Olivia's Perspective on Using Bugs for Protein
51:10 – What is the Genius Myth?
53:13 – Olivia's Message to the World
56:09 – Olivia's Secret to Profiting in Life
Mentioned in the Episode:
Olivia's LinkedIn: https://www.linkedin.com/in/ofc/
Olivia's Website: https://www.askolivia.com/
Alternative Protein Maps: https://newprotein.org/
Kindearth.Tech: https://www.kindearth.tech/
The Good Food Institute: https://gfi.org/