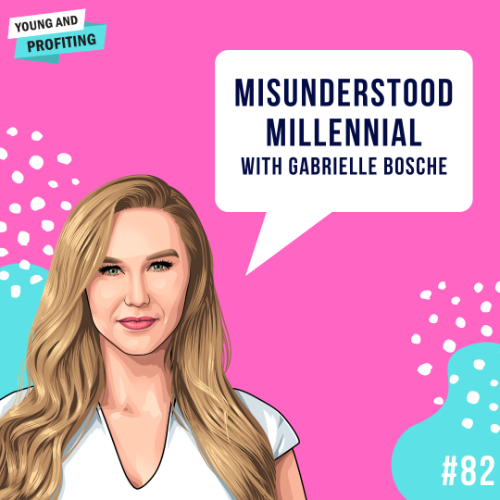 #82: The Misunderstood Millennial with Gabrielle Bosche
#82: The Misunderstood Millennial with Gabrielle Bosche
Why are millennials so misunderstood? They're known to be lazy, disrespectful, entitled, and the list of negative characteristics could go on and on. Today, our show features Gabrielle Bosche, a Millennial Expert, and Millennial herself. She is the founder and President of The Millennial Solution, an international training and consulting company bridging the generation gap. She has worked with Fortune 500 clients and even the U.S. Navy to help them understand how to understand and work with Millennials.  We will dive into her background and influences she had, what being the #1 Millennial Expert actually means, characteristics of Millennials, and debunking common myths about them. Whether you are a Millennial yourself or work with them on your team, this is an episode you won't want to miss! Social Media Links:
Follow YAP on IG: www.instagram.com/youngandprofiting
Reach out to Hala directly at [email protected]
Follow Hala on Linkedin: www.linkedin.com/in/htaha/
Follow Hala on Instagram: www.instagram.com/yapwithhala
Check out our website to meet the team, view show notes and transcripts: www.youngandprofiting.com
Timestamps:
0:50 – How Faith Influenced Gabrielle's Beginnings
3:31 – Pageant Learnings
4:43 – Where Gabrielle's Drive Comes From
7:20 – How Gabrielle Landed the U.S. Navy as a Client
11:14 – Why Gabrielle is the #1 Millennial Expert 14:37 – Definition of a Millennial
16:30 – Characteristics of Millennials
17:58 – Differences between Gen Z and Millennials
20:45 – The Millennial Myths 
22:45 – Advice for a Millennial to Make Good Impressions
24:57 – Advice for Other Generations to Embrace Millennials
26:57 – Is There High Job Turnover Within Millennials?
28:45 – What do Millennials Value in Their Jobs?
31:24 – Why Millennials Strive to be Entrepreneurs
34:34 – Types of Millennial Entrepreneurs
38:21 – Gabrielle's Secret to Profiting in Life List of  links to resources mentioned in episode, suggested reading & social media handles:
Gabrielle's Book, The Purpose Factor: https://www.purposefactorbook.com/order38253775
Gabrielle's Instagram: https://www.instagram.com/gabriellebosche/
Gabrielle's LinkedIn: https://www.linkedin.com/in/gabriellebosche/
Gabrielle's Website: http://gabriellebosche.com/