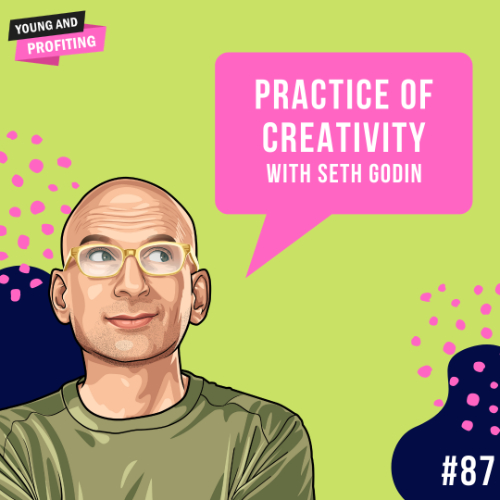 #87: Practice of Creativity with Seth Godin
#87: Practice of Creativity with Seth Godin
Hear from the GOAT of marketing! Our guest this week is Seth Godin, marketing mastermind, public speaker and best-selling author. You may know him for one of his 20 books, including his newest book, The Practice. He is also the founder of Akimbo, hosts the Akimbo podcast, and creates some of the most sought-after marketing courses online, including the altMBA. Today, we talk with Seth about some of the core principles of marketing and how they apply to everyone – not just marketers! We also dive into his inspiration behind his newest book, The Practice, how to approach creativity as a professional, the importance of generosity with ideas, and why people may be holding themselves back from success without knowing it. This is an episode you won't want to miss!
Hala's Wicked Self-Improvement Playlist: Sign up to Podyssey see my curated playlist of top self-improvement podcast episodes from YAP and my favorite legendary and up-and-coming podcasters. Get ready to listen, learn and profit. Follow the link in my show notes to check it out: https://podyssey.fm/list/id36564?utm_source=linkedin&utm_medium=partner&utm_campaign=yap
Social Media: 
Follow YAP on IG: www.instagram.com/youngandprofiting 
Reach out to Hala directly at [email protected] 
Follow Hala on Linkedin: www.linkedin.com/in/htaha/ 
Follow Hala on Instagram: www.instagram.com/yapwithhala 
Check out our website to meet the team, view show notes and transcripts: www.youngandprofiting.com
Timestamps:
01:21 – Seth's Failures over his Career 
03:36 – Why Imposter Syndrome is Widespread 
05:25 – What is Permission Marketing? 
07:51 – How to Know When Content is Relevant 
10:13 – Explanation of Smallest Viable Audience
14:39 – Why We are Addicted to Stories 
19:57 – What are Marketers Doing Wrong in 2020 
22:27 – Personalization vs. Permission Marketing 
24:16 – Seth's Opinion on Automation Tools 
27:22 – Why Seth Decided to Write His New Book, The Practice 
29:09 – Problem on Focusing on Outcomes 
31:10 – The Juggling Analogy 
33:20 – Definition of a Leader 
34:23 – Definition of Art 
35:17 – The Importance of Generosity 
37:05 – Why People Hold Their Work Back 
38:03 – Why Writers' Block Doesn't Exist 
40:58 – Profession vs. Hobby 
42:20 – Seth's Secret to Profiting in Life
Links Mentioned in the Episode:
Seth's Website: https://www.sethgodin.com/ 
Seth's New Book, The Practice: https://seths.blog/thepractice 
Seth's Blog: https://seths.blog/ 
Seth's Podcast, Akimbo: https://www.akimbo.link/ 
Seth's Workshops: https://www.akimbo.com/