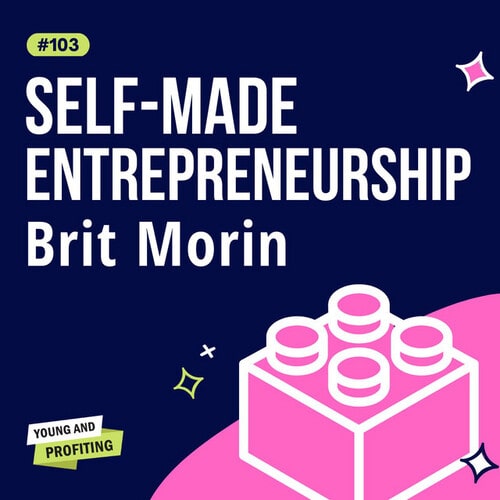 YAPClassic: Brit Morin on Personal Branding, Entrepreneurship, and Unconventional Creativity
YAPClassic: Brit Morin on Personal Branding, Entrepreneurship, and Unconventional Creativity
As a child, Brit Morin's parents struggled to scrounge up $20 for her to go on her class field trip. She quickly learned that if she wanted something, she'd have to figure out how to get it herself. She started cooking and doing her own laundry at 8 years old. This creative spirit led her to work for massive tech companies and eventually start her own multimillion-dollar lifestyle brand, Brit + Co. In this episode of YAPClassic, you'll learn how to exercise your creativity every day, how Brit makes investment decisions as a venture capitalist, and how she raised funding for Brit + Co. You'll also learn about Brit's experience working for Steve Jobs and Google.
Brit is a serial entrepreneur and venture capitalist. Her most well-known company, Brit + Co., secured over $50M in funding since its inception in 2011. She has been awarded various accolades, including Ad Age's 40 Under 40, Adweek's Creative 100, Forbes 30 Under 30, Fortune's Most Promising Entrepreneurs, Refinery29's 30 Under 30, one of Parents magazine's Most Influential Millennial Moms, and one of ELLE magazine's American Women at 30. Brit is the author of the bestselling book, Homemakers: A Domestic Handbook for the Digital Generation and has been a regular expert on Good Morning America, the Today Show, Live with Kelly & Ryan, Rachael Ray, and more.
In this episode, Hala and Brit will discuss:
– How middle school kills creativity
– Brit's inclusive definition of creativity
– How Brit broke into the tech industry and worked for Steve Jobs
– The differences between Apple and Google's culture
– Brit's leap into entrepreneurship
– How social media advertising has evolved since the 2016 election
– Why Brit decided to seek venture capital
– How Brit decides what to invest in as a seed-stage investor
– How the mistreatment of women and people of color inspired Brit to start Selfmade
– And other topics…
Brit Morin is the founder and managing partner of Offline Ventures, an early-stage technology fund, and incubator that seeks to create companies that make our offline lives better. She's also the founder of BFF, an open-access community to help more women and nonbinary people get educated, connected, and rewarded in all things crypto and web3. Further, she's the founder of Brit + Co, a modern lifestyle and education company providing classes, content, products, and experiences geared towards women with a creative spirit and a do-it-herself attitude. She's also the founder of Selfmade, an educational platform that helps female founders start and grow a business.
Prior to founding Brit + Co, she worked in product and marketing roles at Google and Apple. Her interests include tech, crypto, storytelling, design, women, photography, the great outdoors, and just about any creative project she can get her hands on.
LinkedIn Secrets Masterclass, Have Job Security For Life: Use code 'podcast' for 40% off at
yapmedia.io/course
More About Young and Profiting
Watch Videos –
youtube.com/c/YoungandProfiting