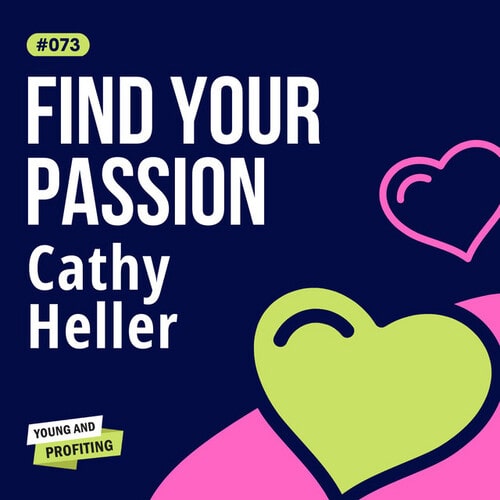 YAPClassic: Cathy Heller on Radical Empathy and Finding Work You Love
YAPClassic: Cathy Heller on Radical Empathy and Finding Work You Love
After enduring a painful childhood with a suicidal mother, Cathy Heller moved to LA at 16 with nothing but a dream to become a rockstar. That dream was almost a reality until her producer, Ron Fare, dropped her because he didn't think she would make enough money as a musician. After jumping between soul-sucking day jobs that made her unhappy, she found a unique way to exercise her passion for music in a more profitable, fulfilling way. In this episode, Kathy explains why a lack of resources is not an excuse to abandon your dreams, why radical empathy is at the core of every business, and how she manages to make millions working only four hours each day.
Cathy Heller is a top podcast host, author, songwriter, and entrepreneurial coach. Her podcast, The Cathy Heller Show, has been featured in Forbes, Entrepreneur Magazine, HuffPost, Inc Magazine, Business Insider, and several times by Apple. Throughout the show, she has interviewed creative entrepreneurs like actress Jenna Fischer, blogger Seth Godin, singer-songwriter Jason Mraz, Lisa Simpson actress Yeardley Smith, designer Jonathan Adler, Bobbi Brown Cosmetics founder Bobbi Brown, psychologist Adam Grant, and author Daniel Pink.
In this episode, Hala and Cathy will discuss:
– Most adults are convinced they have to be unhappy
– The opposite of depression is purpose
– How messy action builds momentum
– Business is relationships, not numbers
– How can you implement radical empathy in your business?
– How to cultivate deep and beneficial online relationships with your clients
– The right way to sell a course online
– The endless value of resourcefulness
– How will higher education shift over the next few decades?
– How to get paid more by working less
Cathy Heller is the host of the popular podcast The Cathy Heller Podcast. Each week Cathy encourages thousands of listeners to find more purpose and get paid to do what they love. Cathy's book, Don't Keep Your Day Job, was released in November 2019 with Macmillan. It's filled with inspirational stories from people in her community who have taken control of their life's journey and goes into detail about how to find the work you're meant to do, grow your business, and wake up to a life you love.
She is a phenomenal coach for creative entrepreneurs and she's helping people everywhere add their gifts to the world. Cathy often says "purpose is the opposite of depression" and she is truly lifting others to be the happiest version of themselves. Cathy currently lives in LA with her husband and their three daughters.
LinkedIn Secrets Masterclass, Have Job Security For Life: Use code 'podcast' for 30% off at
yapmedia.io/course
LMNT – Get a free LMNT Sample Pack with any order only when you order through
DrinkLMNT.com/YAP
More About Young and Profiting