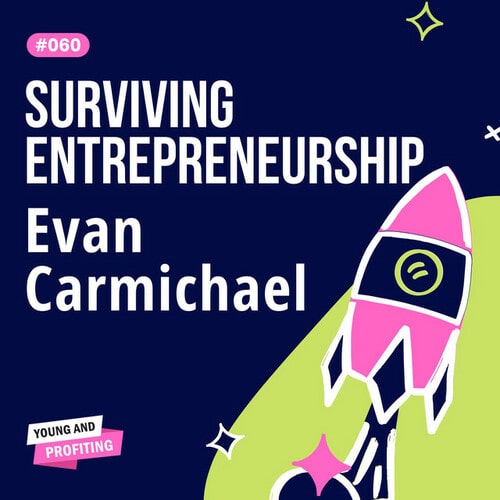 #YAPClassic: Evan Carmichael on Surviving Entrepreneurship
#YAPClassic: Evan Carmichael on Surviving Entrepreneurship
Most people have had an inkling to start a YouTube channel, but don't know what it takes to run and grow one. In fact, the average YouTube growth rate is 1,000 subscribers in 22 months. How do you build a sustainable channel that organically attracts consistent viewers?
Evan Carmichael has been running an entrepreneurial YouTube channel since 2008. He has garnered over 3.5 million subscribers and 500 million total video views. His goal is to help 1 billion entrepreneurs.
In this episode of YAP Classic, Evan gives Hala some insider tips on building and growing a successful YouTube channel, such as designing engaging thumbnails, conducting split tests, and utilizing end cards. He talks about how to overcome shyness and anxiety as a content creator. Hala and Evan also discuss ways to eliminate negativity from your life and gain confidence in the face of insecurity.
– Evan's goal of helping 1 billion entrepreneurs
– Purpose comes from Pain
– Learning from Bill Gates
– Combining talent with hard work
– Evan's advice for people who don't believe in themselves
– Continuing Zig Ziglar's legacy
– Transitioning to YouTube
– Evan's YouTube growth strategies
– Overcoming awkwardness and anxiety
– Tips for building a popular YouTube channel
– Hacks for YouTube advertising
– How long should your YouTube videos be?
Evan Carmichael is an entrepreneurial coach, author, speaker, and venture capitalist. He hosts a popular entrepreneurial YouTube channel that boasts over 3.5 million followers, where he interviews top entrepreneurs like Tony Robbins, Ed Mylett, and Oprah Winfrey. He offers courses through his company, Evan Carmichael Communications Group. He has written four books, including Built to Serve and The Top 10 Rules for Success.
Evan was named one of the World's 40 Social Marketing talents by Forbes. He was also put on Inc.'s list of 100 Greatest Leadership Speakers and named one of their 25 Social Media Keynotes Speakers you Need to Know.
Connect with Young and Profiting: