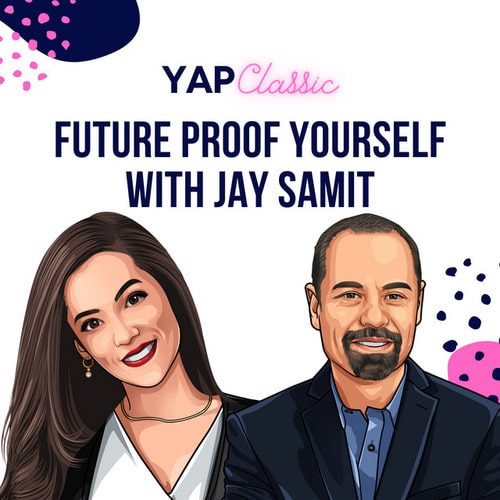 YAPClassic: Jay Samit on Future Proofing Yourself
YAPClassic: Jay Samit on Future Proofing Yourself
Leading technology innovator, serial entrepreneur, industry disruptor, and best-selling author Jay Samit believes with the right tools anyone can become a millionaire. In his new book, Future-Proofing You, Jay shares the 12 truths necessary for becoming rich and never needing a job again. Sound impossible? Jay can prove that it works! Jay mentored a millennial on welfare and under Jay's mentorship, this young man became a self-made millionaire in just one year. So, if you want to realize your potential and build a better, more secure life, you should pay attention to the actionable advice Jay lays out and start "future-proofing" yourself today. In this episode, Hala and Jay talk about Jay's personal story, Jay's mentee Vin Clancy, the M.O.V.E. acronym, the importance of selling early and acting fast, five of the twelve truths, the future of augmented reality and NFTs, and more. 
Topics Include:
– Jay's career journey
– Idea for wiring Future-Proofing You
– The story of Vin Clancy 
– Truth #1 have a growth mindset 
– M.O.V.E acronym 
– Proving a case study to build your business 
– Selling early and acting fast
– Importance of mentors
– Quick fire segment on 12 truths of future-proofing
– Truth #4: Failure is great 
– Truth #6: Passion makes you unstoppable
– Truth #8 Everything is a tech startup
– Truth #12: Remote workers are your competitive advantage
– Impact of COVID
– Sustainable capitalism 
– Augmented reality 
– NFTs
– Jay's secret to profiting in life 
– And other topics…
Jay Samit is an international best-selling author, a dynamic entrepreneur and intrepreneur who is widely recognized as one of the world's leading experts on disruption and innovation. Jay is currently the Executive Chairman Emeritus at Greenfield Robotics. He has held executive positions at Deloitte Consulting LLP, Sony, Universal Studios, and more.
Jay raises hundreds of millions of dollars for startups, advises Fortune 500 firms, transforms entire industries, and revamps government institutions. He frequently appears on national media including ABC, Bloomberg, CBS, CNN, Fox, MSNBC, and NBC, and has been quoted in The New York Times, Harvard Business Review, The Economist, Businessweek, Forbes, Los Angeles Times, and more. 
Jay is the author of the best-selling book, Disrupt You!: Master Personal Transformation, Seize Opportunity, and Thrive in the Era of Endless Innovation and Future-Proofing You: Twelve Truths for Creating Opportunity, Maximizing Wealth, and Controlling your Destiny in an Uncertain World.
Sponsored By:
99 Designs – Head to 99designs.com/YAP to learn more and get $30 off your first design contest!
Grin.co – Find out how GRIN can help you grow your brand. Watch the demo at GRIN.co
WRKOUT – Visit wrkout.com/yap to book a FREE Session with a world-class trainer and get 30% off your first TWO MONTHS with code YAP
Coinbase – For a limited time, new users can get $10 in free Bitcoin when you sign up today at Coinbase.com/YAP
Jordan Harbinger – Check out jordanharbinger.com/start for some episode recommendations
Resources Mentioned:
YAP Episode #27- Cultivate a Disruptive Mindset with Jay Samit: https://www.youngandprofiting.com/27-cultivate-a-disruptive-mindset-with-jay-samit/ 
YAP Episode #111: Future Proof Yourself with Jay Samit: https://www.youngandprofiting.com/111-future-proof-yourself-with-jay-samit/
Jay's Books: https://jaysamit.com/books/ 
Jay's Worksheets: https://jaysamit.com/worksheets/ 
Jay's Website: https://jaysamit.com/ 
Jay's Instagram: https://www.instagram.com/jaysamit/?hl=en 
Jay's LinkedIn: https://www.linkedin.com/in/jaysamit 
Connect with Young and Profiting:
YAP's Instagram: https://www.instagram.com/youngandprofiting/    
Hala's Linkedin: https://www.linkedin.com/in/htaha/    
Hala's Instagram:https://www.instagram.com/yapwithhala/    
Clubhouse: https://www.clubhouse.com/@halataha  
Website: https://www.youngandprofiting.com/ 
Text Hala and join YAP's text community by texting the keyword "YAP" to 28046