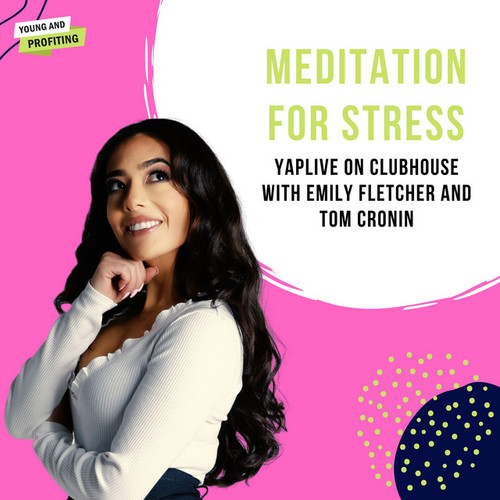 YAPLive: Meditation for Stress with Emily Fletcher & Tom Cronin
YAPLive: Meditation for Stress with Emily Fletcher & Tom Cronin
Join Hala for a live recorded episode of Young and Profiting podcast featuring Emily Fletcher and Tom Cronin, experts in meditation and mindfulness. They will share actionable advice on how meditation can positively impact your health, explaining the different types of meditation, and more!
Meet the Moderators:
Emily Fletcher: Emily Fletcher founded Ziva Meditation, which is a type of meditation that balances mindfulness with meditation and manifesting. Ziva Meditation has helped Navy SEALS, athletes, and Emmy, Grammy, and Oscar Award winners get better at life. Emily herself majored in theatre at Florida State University and had a 10-year career on Broadway. Unfortunately, during her tenure on Broadway, she suffered from insomnia, premature ageing, consistently getting sick, and anxiety. She then turned to meditation, to relieve stress. After her Broadway career ended, Emily went to India to train to be a meditation teacher, before founding Ziva Meditation. Emily has also written a book titled Stress Less, Accomplish More.
Tom Cronin: Tom Cronin is a meditation teacher. He was in the finance industry for 26 years and felt stressed, anxious, and overall burned out. Because of this, he contemplated committing suicide. He then transitioned into becoming a meditation teacher, and since that transition, he has done so much better. Aside from being a meditation instructor, he is a transformation coach, has authored six (6) books, retreat host, founded the app "The Portal", speaker, and producer of a film that has the same name as his app.
Social Media:
Follow YAP on IG: www.instagram.com/youngandprofiting
Reach out to Hala directly at [email protected]
Follow Hala on Linkedin: www.linkedin.com/in/htaha/
Follow Hala on Instagram: www.instagram.com/yapwithhala
Follow Hala on ClubHouse: @halataha
Check out our website to meet the team, view show notes and transcripts: www.youngandprofiting.com