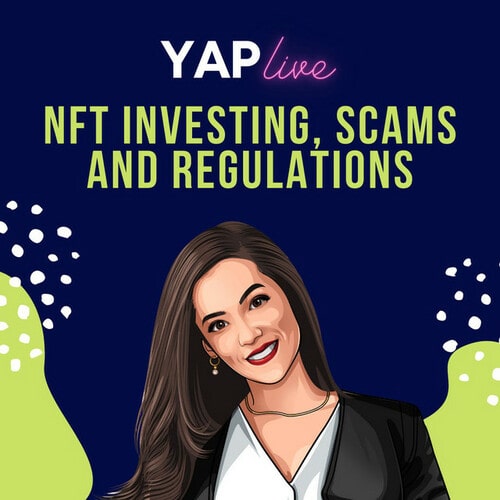 YAPLive: NFT Investing, Scams and Regulations with Brandon Hoffman, Christa Laser, Mitch Jackson, and Jerome Bethea (JB the Wizard)
YAPLive: NFT Investing, Scams and Regulations with Brandon Hoffman, Christa Laser, Mitch Jackson, and Jerome Bethea (JB the Wizard)
The world of NFTs is the Wild West! Entering the space with knowledge and understanding is crucial to keeping you and your assets safe. Experts Brandon Hoffman, Christa Laser, Mitch Jackson, and Jerome Bethea (JB the Wizard) let us know what to consider as investors, and guide us through the legal side of NFTs.
Topics Include:
– Where to research and acquire NFTs
– How to know if an NFT is a good investment
– Defining on-chain and off-chain
– Considering utility when investing
– Four steps to finding red flags in NFT
– What makes NFT a good investment
– Fair use vs copyright infringement
– Process of purchasing an NFT
– Security and keeping your assets safe
– Hot wallet vs cold wallet
– What's a "rug pull" and how to avoid it
– Pros and cons of regulation
– And other topics…
Brandon Hoffman is a senior venture investor at Samsung Next where he leads efforts around Web3, gaming/Metaverse, and fintech/Defi. Brandon has executed more than 20 early-stage deals.
Christa Laser is an intellectual property law professor at Cleveland-Marshall College of Law. Her research focuses on intellectual property and innovation. She is also an angel investor and a Venture Partner with NextGen Venture Partners.
Mitch Jackson is a trial lawyer, entrepreneur, and investor. He was named California Litigation Lawyer of the Year in 2013 and Orange County Trial Lawyer of the Year in 2009.
Jerome Bethea (JB the Wizard) is an NFT Consultant to NFT Founders. He is the CEO and founder of Futuring™ With The Wizard, where he coaches Top Tier Salespeople.
Sponsored By:
Jordan Harbinger – Check out jordanharbinger.com/start for some episode recommendations
Grin.co – Find out how GRIN can help you grow your brand. Watch the demo at GRIN.co 
WRKOUT – Visit bit.ly/yap_wrkout to book a FREE Session with a world-class trainer and get 30% off your first TWO MONTHS with code YAP
99designs by Vista – Head to 99designs.com/YAP to learn more and get $30 off your first design contest!
Riverside.fm – Visit riverside.fm and use my code YAP to get 60 minutes free recording and 15% off a membership plan.
Resources Include:
Get $10 Free Bitcoin on Coinbase: https://www.coinbase.com/YAP
#YAPLive: NFT Basics and Beyond with Ben Yu, John Kraski, Brian Esposito, and Ashley France: https://www.youngandprofiting.com/yaplive-nft-basics-and-beyond-with-ben-yu-john-kraski-brian-esposito-and-ashley-france/
#YAPLive: NFTs for Artists & Creators with Maria Brito, Jerome Bethea (JB the Wizard), Cesar Maximo, and QuHarrison Terry: https://www.youngandprofiting.com/yaplive-nfts-for-artists-creators-with-maria-brito-jerome-bethea-jb-the-wizard-cesar-maximo-and-quharrison-terry/
Brandon's LinkedIn: https://www.linkedin.com/in/bdhoffman/
Brandon's Medium: https://medium.com/@brandondhoffman
Brandon's Twitter: https://twitter.com/BrandonHoffmanC
Christa's LinkedIn: https://www.linkedin.com/in/christalaser/
Christa's Twitter: https://twitter.com/christalaser
Christa's Instagram: https://www.instagram.com/christa.laser/
Christa's YouTube: https://www.youtube.com/c/ChristaLaser
Mitch's Website: https://mitchjackson.com/
Mitch's LinkedIn: https://www.linkedin.com/in/mitchjackson/
Mitch's Twitter: https://twitter.com/mitchjackson
Mitch's Instagram: https://www.instagram.com/mitchjackson/
Mitch's YouTube: https://www.youtube.com/user/triallawyerexpert/videos
Mitch's Facebook: https://www.facebook.com/metaverselawyermitchjackson/
JB's LinkedIn: https://www.linkedin.com/in/jbthewizard/
JB's Facebook: https://www.facebook.com/FuturingWithTheWizard/
Connect with Young and Profiting:
YAP's Instagram: https://www.instagram.com/youngandprofiting/    
Hala's LinkedIn: https://www.linkedin.com/in/htaha/    
Hala's Instagram: https://www.instagram.com/yapwithhala/    
Hala's Twitter: https://twitter.com/yapwithhala 
Clubhouse: https://www.clubhouse.com/@halataha  
Website: https://www.youngandprofiting.com/ 
Text Hala: https://youngandprofiting.co/TextHala