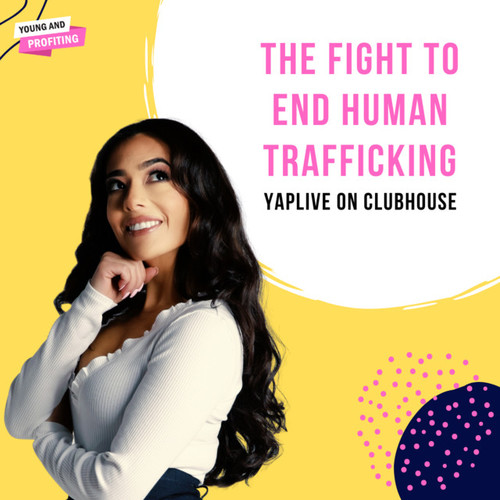 YAPLive: The Fight To End Human Trafficking on Clubhouse | Uncut Version
YAPLive: The Fight To End Human Trafficking on Clubhouse | Uncut Version
Join Hala Taha for a Live Young and Profiting Podcast Episode with LELA (Lived Experienced Leaders Alliance). They will discuss the ongoing fight against human trafficking and how communities can better serve those impacted by exploitation.
**Meet the panel**
Rayanne Irving – Rayanne Irving is a survivor of human trafficking, spending six months as a teenager, forced to work for street gangs and pimps. Today she works as a performance horse trainer, a childhood passion that has also been therapeutic and helped her recover. Also a Practicing Student of Neuroenergetic and Integrative Neurocardiology Kinesiology.
Jaimee Johnson – CEO of Sisters of the Streets, serving as an advocate for those who survived or have been victims of sexual exploitation. Her passion is preventing exploitation within our communities.
Jes Richardson – Jes's in-depth knowledge, combined with her personal experiences of surviving trafficking and then becoming a sex worker, give her a unique perspective that resonates with individuals.
January Riggin – Founder of Soap2Hope, a nonprofit organization that helps build awareness for women, men and teenagers who have suffered all forms of abuse in the sex trade, after being through her own experience with sexual and physical abuse, sex exploitation and addiction.
Rasha Hammad – Founder and CEO of Youth Underground, a Swiss nonprofit organization whose mission is to prevent human trafficking through youth education, awareness-raising and advocacy.
Jose Alfaro – Jose survived his own experience with human trafficking – living with his abuser who exploited him and is now working on a memoir, educating others about those who are experts at exploiting the pain and loneliness of being rejected by families and communities.
Chris Bates – A nationally recognized speaker on the topic of exchanging sex for needs and young adult homelessness who uses his own lived experience as an exploited male to inform and motivate him, bringing much-needed awareness to the widespread issue of young adults needing to exchange sex to meet their needs. Chris is changing systems that impact vulnerable young adults so they are supported and connected, dedicating himself to working to solve this societal problem.
Social Media:

Follow YAP on IG: www.instagram.com/youngandprofiting
Reach out to Hala directly at [email protected]
Follow Hala on Linkedin: www.linkedin.com/in/htaha/
Follow Hala on Instagram: www.instagram.com/yapwithhala
Follow Hala on ClubHouse: @halataha
Check out our website to meet the team, view show notes and transcripts: www.youngandprofiting.co