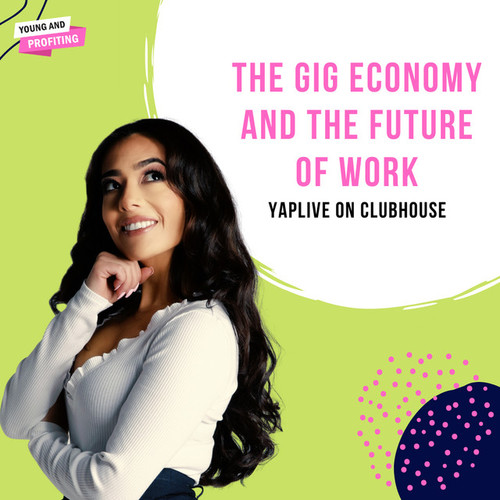 YAPLive: The Gig Economy and The Future of Work on Clubhouse | Uncut Version
YAPLive: The Gig Economy and The Future of Work on Clubhouse | Uncut Version
Join Hala for a live Young and Profiting Podcast Episode with Gig Economy and Outsourcing experts Joey Hickson, Maddy Osman, Tim Salau, Dana Bowling and Liya Palagashvili. They will discuss how businesses effectively integrate freelancers into their workflows and benefit from having access to the best talent in the world with just a few clicks.
This Episode is Sponsored by Fiverr
***Meet the Moderators***
Tim Salau – Mr.Future Of Work and CEO of Guide, a B2B Learning & Talent Development app joined us back in episode #90 The American Dream last year
Joey Hickson is Social Media producer with 4M+ following on Instagram who runs an 7-figure marketing agency  – proud to also call him my business partner
Maddy Osman SEO Content Strategist & Founder at The Blogsmith a SEO content agency
Liya Palagashvili  – Assistant Professor of Economics at State University of New York-Purchase and a research fellow with NYU Law.
Dana Bowling – motivational speaker, online business  coach, and IG + Clubhouse marketing queen 
Jeremy Abramson- is a high energy coach, tiktok super star and host of the Trive University podcast.
Social Media:
Follow YAP on IG: www.instagram.com/youngandprofiting
Reach out to Hala directly at [email protected]
Follow Hala on Linkedin: www.linkedin.com/in/htaha/
Follow Hala on Instagram: www.instagram.com/yapwithhala
Follow Hala on ClubHouse: @halataha
Check out our website to meet the team, view show notes and transcripts: www.youngandprofiting.com