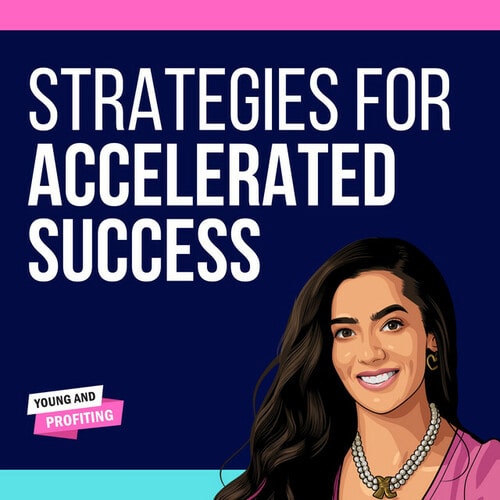 Hala Taha: Strategies for Accelerated Success with Hala Taha (The Tim Castle Show)
Hala Taha: Strategies for Accelerated Success with Hala Taha (The Tim Castle Show)
True success doesn't come from wishful thinking. It comes from dedication, grit, and lots of time to live the life of your dreams.
Hala Taha, host of Young and Profiting podcast, built her empire by sacrificing four years of travel, fun, and relaxation to hustle. Now, she's running a $4 million company while hosting the #1 Education podcast across all platforms.
In this episode, we are replaying Hala's interview on The Tim Castle Show, where they discussed Hala's career progression, her outlook on rejection, and how she built YAP Media into the powerhouse it is today. She also gives advice on how to break into the podcast industry and how to rewire your mind to reach your goals.
-Hala's background in singing, songwriting, and radio
-How did Hala end up starting YAP?
-Hala's outlook on rejection
-How Hala ran YAP while working a separate full-time job
-Hala and her family's experiences with COVID-19
-How Hala attracted YAP's first clients
-Why most people can't break into the podcast industry
-Permission-based marketing
-The secrets of growing a podcast
-How to rewire your mind to open the doors to new opportunities
Hala Taha is the host of Young and Profiting Podcast, frequently ranked as a #1 Education podcast across all apps. Hala is also the CEO of YAP Media, a full-service social media and podcast marketing agency for top podcasters, celebrities, and CEOs. She is well-known for her engaged following and influence on Linkedin, and she landed the January 2021 cover of Podcast Magazine.
Tim Castle is a success coach, speaker, and bestselling author. He works with clients on topics like mindset, performance, sales, leadership, and self-improvement. He is an advisor to startups on the Blue Chilli HeathTech Program and The Stockland Accelerator. He is also a Mentor to She Starts Accelerator for female entrepreneurs and serves as Head of Sales for a mobile technology business across the Asian region. His podcast, 'The Tim Castle Show' interviews courageous people who doing inspirational things around the world.
Shopify – Go to
shopify.com/profiting
, for a FREE fourteen-day trial and get full access to Shopify's entire suite of features
Dr. Jack Schafer's Book: The Like Switch
Chris Voss's Book: Never Split The Difference
Robert Greene's Book: The Laws of Human Nature
Connect with Young and Profiting:
Learn more about your ad choices.