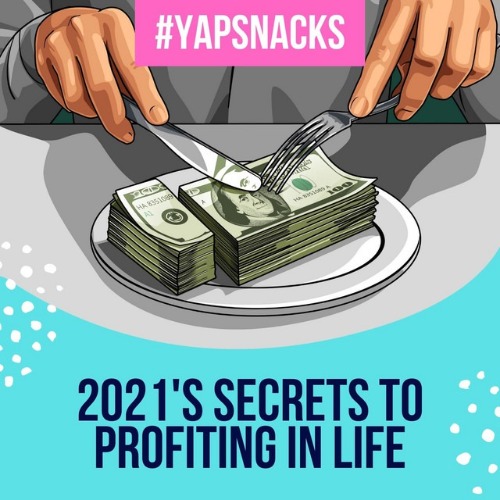 #YAPSnacks: 2021's Secrets To Profiting In Life – Purpose, Priorities and Balance (Part 1)
#YAPSnacks: 2021's Secrets To Profiting In Life – Purpose, Priorities and Balance (Part 1)
In this New Year's Eve special we are taking a look back through 2021!
Over the course of the year, we have chatted with sleep scientists, best-selling authors, FBI agents, fortune 50 CEOS, even movie stars, and after every interview they are all asked the same question…
"What is your secret to profiting in life?" 
And when we say profiting, we mean more than just making money, we want to hear from successful people on how to achieve the best in our own lives! 
The yap team has dug through 2021s episodes and collected all the responses to see if any common themes came up! Some patterns became apparent quite quickly! Part one of our two part #YAPSnacks special is about remembering to know your purpose and priorities! Finding what you love, what you believe in, what you serve, and making sure you enjoy the never-ending-journey to fulfilling your purpose!
Let's end 2021 together with learning the secrets to profiting in life! 
Sponsored by – 
Athletic Greens – Visit athleticgreens.com/YAP and get FREE 1 year supply of immune-supporting Vitamin D AND 5 FREE travel packs with your first purchase.
Nearside – Go to nearside.com/yap to sign up for your Nearside Business Checking account!
Jordan Harbinger – Check out jordanharbinger.com/start for some episode recommendations.
StoryWorth – Go to storyworth.com/yap and save $10 on your first purchase!
Pepsi – This episode is brought to you by Pepsi!
Social Media:
 Follow YAP on IG: www.instagram.com/youngandprofiting
Reach out to Hala directly at [email protected]
Follow Hala on Linkedin: www.linkedin.com/in/htaha/
Follow Hala on Instagram: www.instagram.com/yapwithhala
Follow Hala on ClubHouse: @halataha
Check out our website to meet the team, view show notes and transcripts: www.youngandprofiting.com