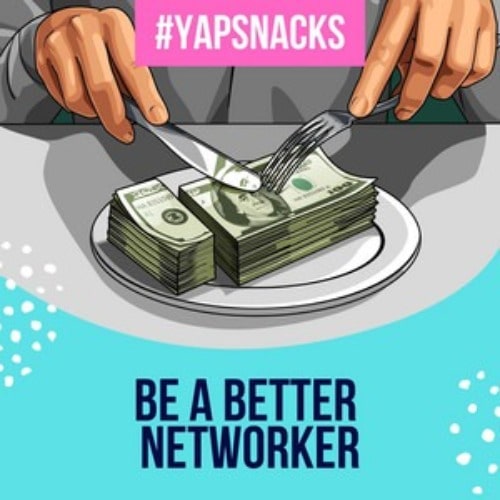 YAPSnacks: Be a Better Networker
YAPSnacks: Be a Better Networker
Networking can feel overwhelming to say the least. But nearly 80% of job vacancies are filled by networking, which makes it clear that networking is vital for career growth and personal development!
On today's YAP Snacks we're hearing from some of the supreme experts on networking that we've had on the show over the years. We'll hear clips and actionable advice from guests like Jordan Harbinger, Chase Hughes, Ryan Serhant, and more!
So whether you consider yourself a master networker, or need to brush up on your outreach skills, tune in to this episode to level up your community building and create strong connections!
Sponsored by – 
BrandCrowd – Check out brandcrowd.com/yap to learn more, play with the tool for free, and get 73% off your purchase.
Ritual – Visit ritual.com/YAP today for 10% off your first 3 months.
Real Vision – Visit realvision.com/yap and join Real Vision for just $1 !
Hirect – Download Hirect – the number 1 hiring app for startups https://hirectapp.onelink.me/YctD/halataha
Social Media: 
Follow YAP on IG: www.instagram.com/youngandprofiting
Reach out to Hala directly at [email protected]
Follow Hala on Linkedin: www.linkedin.com/in/htaha/
Follow Hala on Instagram: www.instagram.com/yapwithhala
Follow Hala on Clubhouse: @halataha
Check out our website to meet the team, view show notes and transcripts: www.youngandprofiting.com