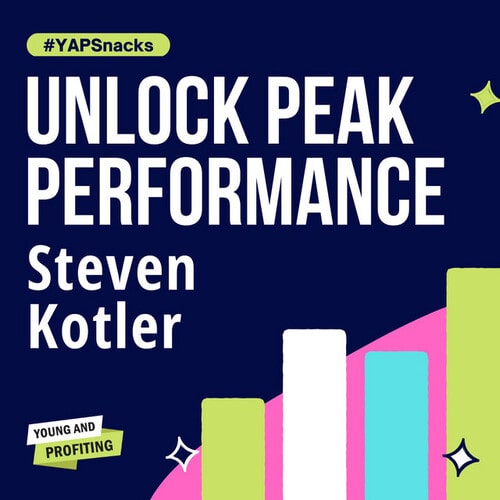 YAPSnacks: Best of Steven Kotler, Flow Master and Peak Performance Expert
YAPSnacks: Best of Steven Kotler, Flow Master and Peak Performance Expert
A few years ago, Steven Kotler set off on a quest to defy societal expectations of aging. By learning to park ski at age 53, he learned that old dogs can indeed learn new tricks. How did he do it? In this episode of YAPSnacks, you will hear the best segments from Steven's four appearances on YAP that explain how to hack your own biology to work for you, rather than against you. He uncovers how to enter a flow state, the benefits of flow, and how to keep your mind and body sharp as you enter the second half of your life.
Steven is a New York Times bestselling author, an award-winning journalist, and the Executive Director of the Flow Research Collective. He is one of the world's leading experts on human performance. His work has been nominated for two Pulitzer Prizes, translated into over 50 languages, and has appeared in over 100 publications, including the New York Times Magazine, Wired, Atlantic Monthly, Wall Street Journal, TIME, and the Harvard Business Review.
In this episode, Hala and Steven will discuss:
– The three states of human consciousness
– How flow boosts motivation, creativity, and learning
– How do you enter a flow state?
– The power of immediate feedback
– Can groups of people enter a flow state together?
– Why is motivation so important?
– The key steps to peak performance aging
– Why being in nature is vital to our health
LinkedIn Secrets Masterclass, Have Job Security For Life: Use code 'podcast' for 30% off at
yapmedia.io/course
More About Young and Profiting