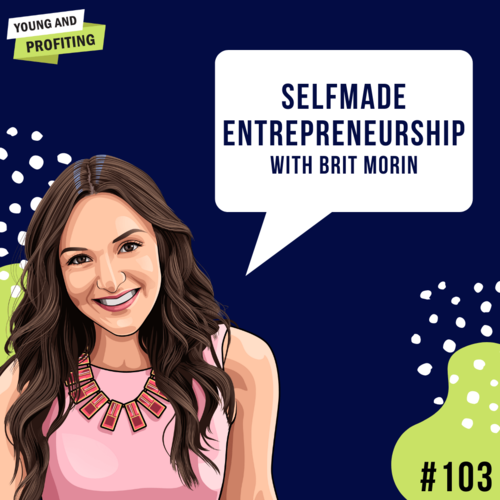 #103: Selfmade Entrepreneurship with Brit Morin
#103: Selfmade Entrepreneurship with Brit Morin
Become a Selfmade Entrepreneur with Brit Morin!
In this episode, we are chatting with Brit Morin, founder and CEO of Brit+CO, a popular lifestyle website. Brit grew up loving arts and crafts, but after she learned how to code in teens, she traded her love of art for a career in technology and marketing — working with huge names in Silicon Valley like Apple and Google straight after college. At the age of 25, she decided to create her own business, Brit+Co, to center around accessible and helpful DIY how-to's. In 10 years, she's secured over $50M in funding and over 1.2 Billion page views! Today, she also hosts her own podcast, Teach Me Something New, is a budding investor (she invested in the booming audio-only social media app, Clubhouse), and recently launched Self-Made, an interactive start-up school to empower female entrepreneurs!
In this week's episode, we talk about Brit's passion for creativity growing up as a kid, why we tend to become less creative as we become adults, and why you should try to set aside time for creativity every single day. We'll also dive deeper into Brit's beginnings at Apple and Google, why Brit created Brit+Co, how she raised capital, her own investing endeavors, and her new venture to help other women become successful entrepreneurs, Self-Made.
Social Media:
Follow YAP on IG: www.instagram.com/youngandprofiting
Reach out to Hala directly at [email protected]
Follow Hala on Linkedin: www.linkedin.com/in/htaha/
Follow Hala on Instagram: www.instagram.com/yapwithhala
Follow Hala on ClubHouse: @halataha
Check out our website to meet the team, view show notes and transcripts: www.youngandprofiting.com
Timestamps:
00:46 – How Brit's Creativity Grew Out of Her Childhood
02:09 – Why Creativity Diminishes As You Age
05:22- The Scope of Creativity
08:49 – How Brit's Childhood Influenced Her Success Today
14:33 – Brit's Background of Coding
16:42 – Brit's Start in Silicon Valley
19:21 – Experiencing Steve Jobs' Leadership
22:25 – What Brit Took From Her Past Experience to Brit+Co
27:10 – Why Marissa Mayer Mentored Brit
30:50 – The Beginnings of Brit+Co
35:34 – When Brit Knew Brit+Co Would be Successful
38:37 – How Brit Raised Money
41:29 – The Ways Brit Decides to Invest in Companies
43:49 – Brit's Venture, Self-Made
46:37 – Success Stories from Self-Made
50:18 – Brit's Secret to Profiting in Life
Mentioned In The Episode:
Brit's LinkedIn: https://www.linkedin.com/in/britmorin
Brit's Instagram: https://www.instagram.com/brit/
Brit's Twitter: https://twitter.com/brit
Brit's Website, Brit+Co: https://www.brit.co/
Self-Made: https://tryselfmade.com/enroll
Brit's Podcast: https://www.brit.co/listen/