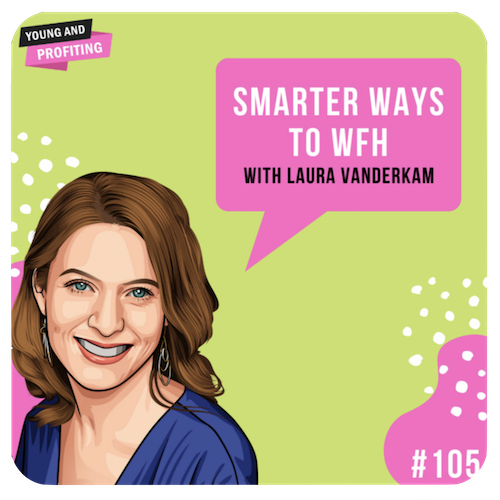 #105: Smarter Ways to WFH (Work From Home) with Laura Vanderkam
#105: Smarter Ways to WFH (Work From Home) with Laura Vanderkam
Stressed out about working from home?
Then stress no more!
In this episode, we are chatting with Laura Vanderkam, best-selling author, podcast host, and productivity expert. Her Ted talk, How to Gain Control of Your Free Time, has been viewed over 11 million times! She is also the host of Before Breakfast which features productivity tips every weekday morning. Her work has been featured in the The New York Times, The Wall Street Journal, USA Today, City Journal, Fortune, and Fast Company and she has appeared on shows such as The Today Show and CBS This Morning.
In this week's episode, we talk about Laura's new book, The New Corner Office, which is all about how to work from home, the benefits of having a routine, and creating work rituals. We'll also dive deeper into how to cultivate a great WFH environment, ta-da lists (instead of to-do lists), why planning out your week ahead of time is beneficial, and more!
Social Media:
Follow YAP on IG: www.instagram.com/youngandprofiting
Reach out to Hala directly at [email protected]
Follow Hala on Linkedin: www.linkedin.com/in/htaha/
Follow Hala on Instagram: www.instagram.com/yapwithhala
Follow Hala on ClubHouse: @halataha
Check out our website to meet the team, view show notes and transcripts: www.youngandprofiting.com
Timestamps:
03:56 – Laura's Past Five Years
05:07 – Benefits of Having a Routine and How to Have a Good One
07:35 – Opinion on a Fake/Mock Commute
09:11 – Advice on Dressing while WFH
11:09 – What's a 'Monday Morning' Ritual
12:53 – How to Respond to Fires at Work
15:02 – Thoughts on Batching
17:07 – Laura's Work Environment and How to Have the Best Environment
20:56 – How to Limit Distractions
22:51 – Ta-Da Lists
26:30 – How to Prioritize Tasks
28:19 – Why to Plan Out Your Week On Fridays
31:36 – Visualizing Your Future to Help Your Goals
34:57 – Why Designing Your Ideal Week is Important
37:30 – How to Keep Employees Engaged and Good Company Cultures
40:55 – Looking at Time with an 'Abundance' Mindset
42:35 – Laura's Secret to Profiting in Life
Mentioned in the Episode:
Laura's New Book, From the Corner Office: https://lauravanderkam.com/books/the-new-corner-office-how-the-most-successful-people-work-from-home/
Laura's LinkedIn: https://www.linkedin.com/in/lauravanderkam/
Laura's Website: https://lauravanderkam.com/