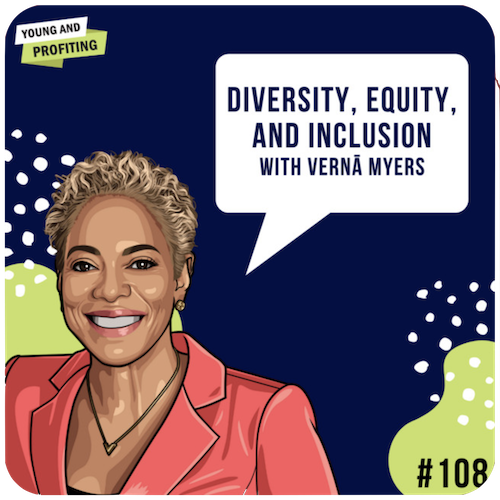 #108: Diversity, Equity, and Inclusion with Vernā Myers
#108: Diversity, Equity, and Inclusion with Vernā Myers
How can diversity and inclusion help your company?
The bottom line: it motivates people and is shown to have a positive financial impact!
In today's episode, we are chatting with Vernā Myers, VP of Inclusion Strategy at Netflix, Harvard-trained lawyer, and founder of the Vernā Myers Company. Vernā is a best-selling author and is known as a cultural change catalyst, influencer, thought leader, and social commentator. Vernā has been featured on CNN and cited in numerous publications including The Atlantic, Bloomberg BNA, Business Insider, Forbes, Fortune, Harvard Business Review, Refinery29, and TED NPR Radio to name a few.
In this episode, Vernā and I talk about her transition from Harvard Law to her focus on diversity and inclusion, defining equity, and sorting through unconscious biases. We then talk further about how you can be an ally, understanding microaggressions and micro-affirmations, the financial impact of D&I for companies, and the difference between sympathy versus empathy.
Social Media:
Follow YAP on IG: www.instagram.com/youngandprofiting
Reach out to Hala directly at [email protected]
Follow Hala on Linkedin: www.linkedin.com/in/htaha/
Follow Hala on Instagram: www.instagram.com/yapwithhala
Follow Hala on ClubHouse: @halataha
Check out our website to meet the team, view show notes and transcripts: www.youngandprofiting.com
Timestamps:
01:10 – Vernā's Shift From Law to Diversity & Inclusion
03:39 – How Vernā Uses Her Law Skills Today
05:45 – Verna's Definition of Diversity and Inclusion
08:46 – Understanding The Concept of Equity
10:46 – Imposter Syndrome and its Relation to Diversity
14:31 – Experience with Unconscious Bias
17:28 – Improving Your Unconscious Bias Over Time
19:20 – Social Hierarchy Framework: Prejudice to -isms
24:24 – How to Lift Up Marginalized Groups as Leaders
27:23 – How to Support with Balance
29:41 – How to Raise Children in a World Full of Biases
34:25 – What is a Microaggression?
37:53 – What are Micro-Affirmations?
40:28 – The Financial Impact of D&I
45:09 – Sympathetic vs. Empathy/Compassion
48:27 – Continuing this Conversation
51:40 – Vernā's Secret to Profiting in Life
Mentioned in the Episode:
Vernā's LinkedIn: https://www.linkedin.com/in/vernamyers/
Vernā's Twitter: https://twitter.com/VernaMyers
Vernā's Website: https://www.vernamyers.com/