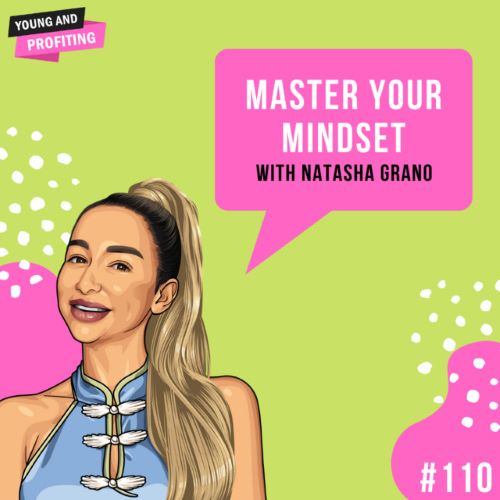 #110: Master Your Mindset with Natasha Grano
#110: Master Your Mindset with Natasha Grano
Manifest your success with the right mindset!
In today's episode, we are chatting with Natasha Grano, a massive Instagram influencer, mindset coach and motivational speaker. In just two years, Natasha grew her Instagram to 1.2 Million followers after researching social media growth strategies for almost three years. Natasha has helped thousands of people to learn the art of manifestation to improve their lives. She is also the best-selling author of Action Plan, which focuses on how to implement the Law of Attraction.
Natasha created the renowned MBS Method (Meditational Behavioural Synchronicity) – which helps people transform to a greater life!
Drawing on her own traumatic experiences she went through, Natasha shows you how to transform your life in every area and take back control of your health, wealth, love and success. Her programs have helped over 1.5 Million people transform their lives. She has been featured in Marie Claire, Daily Mail, and BBC.
In this episode, Natasha and I talk about her beginnings as a child, the major illness she faced right after giving birth, and how she overcame that difficult time by identifying the need to make a mindset shift. We then talk further about how she super-charged her Instagram account, her top social media strategies, how you can grow a following, and the ways in which you can fight off negativity and negative thoughts.
Social Media:
Follow YAP on IG: www.instagram.com/youngandprofiting
Reach out to Hala directly at [email protected]
Follow Hala on Linkedin: www.linkedin.com/in/htaha/
Follow Hala on Instagram: www.instagram.com/yapwithhala
Follow Hala on ClubHouse: @halataha
Check out our website to meet the team, view show notes and transcripts: www.youngandprofiting.com
Timestamps:
01:26 – Natasha's Childhood
03:13 – What Natasha Wanted to Be As a Child
04:55 – Obstacles of Natasha's Illness With a Newborn
08:45 – How Natasha Figured Herself Out
12:24 – Natasha's Start on Social Media and Her Growth
15:32 – Natasha's Social Scaling Strategy
20:41 – Thoughts on Engagement Pods and Shoutouts
25:24 – Natasha's Resources on How to Grow a Following
26:53 – How to Combat Online Negativity
29:48 – The Law of Attraction and Cold Showers
32:03 – How to Turn Off Negative Thoughts
36:42 – How to Change How You Feel About Negative Topics
41:46 – Natasha's Secret to Profiting in Life
Mentioned in the Episode:
Natasha's Instagram: https://www.instagram.com/natashagrano/
Natasha's CH handle: @natashagrano
Natasha's Courses: https://natashagrano.net/courses/
Natasha's MBS Method: https://natasha98106d.clickfunnels.com/optin1614789080626