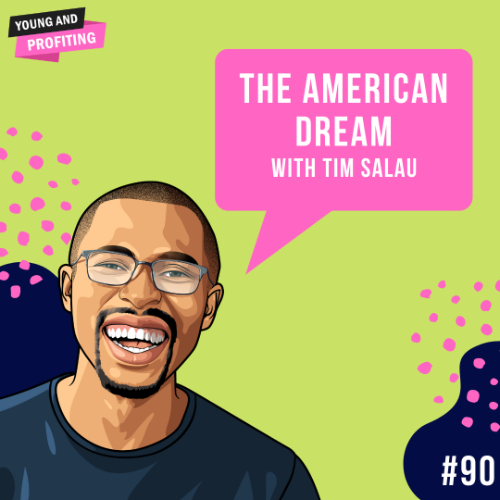 #90: THE AMERICAN DREAM WITH TIM SALAU
#90: THE AMERICAN DREAM WITH TIM SALAU
How will you thrive in the future of work?
This week, we're talking with Tim Salau, aka Mr. Future of Work, who is CEO and Co-founder of the Guide app,
a B2B Learning & Talent Development app helping remote teams and knowledge workers learn anytime, anywhere, on-demand.
Tim is an author, investor, accomplished international keynote speaker, product leader and tech influencer. Before founding Guide, he led product and innovation with 4 global Fortune 500
companies: Google, Microsoft, Facebook, and WeWork, coaching CEOs, executives, and government leaders on how they can transform their workforce to thrive in the Future of Work.
Tune in to learn how Tim's childhood experience as an immigrant from Nigeria helped shape him into the man he is today, and how he stayed on a straight path while growing up in the worst part of Houston. We'll also cover how to advocate for yourself in your career, the difference between good and bad company culture, and Tim's signature P.I.E. principle to build your brand community.
Social Media:
Follow YAP on IG: www.instagram.com/youngandprofiting
Reach out to Hala directly at [email protected]
Follow Hala on Linkedin: www.linkedin.com/in/htaha/
Follow Hala on Instagram: www.instagram.com/yapwithhala
Check out our website to meet the team, view show notes and transcripts: www.youngandprofiting.com
Timestamps:
01:56 – Tim's Childhood & Immigration Story
05:25 – Why Community is so Important
09:15 – How Tim Rose Above Adversity in Houston
13:52 – The Reason Tim Turned to Basketball as a Child
17:59 – Why Being Competitive Isn't Necessary
22:56 – Purpose Behind Tim's Dual Degrees
26:10 – How Tim Landed a Google Internship
33:17 – Tim's Story with Microsoft and How to Advocate for Yourself
36:53 – How Companies Can Improve D&I Strategies
41:34 – Good Culture vs. Bad Culture
44:47 – What is a Legacy Project?
49:15 – The PIE Principle
54:20 – Tim's Secret to Profiting in Life
Mentioned in the Episode:
Tim's Website: https://www.timsalau.com/
Guide: guideapp.co Big Black Tea: https://bigblacktea.com/ Tim's
LinkedIn: https://www.linkedin.com/in/timsalau/ Tim's
Instagram: https://www.instagram.com/timsalau/