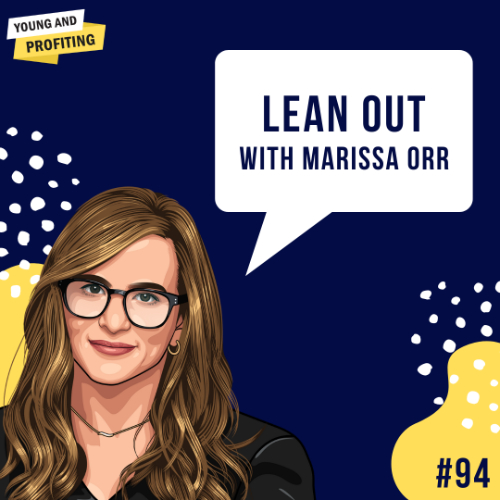 #94: Lean Out: Women, Power and the Workplace with Marissa Orr
#94: Lean Out: Women, Power and the Workplace with Marissa Orr
You might have heard of the book Lean In… but have you heard of Lean Out ?
In this week's episode, we are talking with Marissa Orr, former Google and Facebook executive as well as the best-selling author of Lean Out. After spending 15 years working at today's top tech giants, she transitioned her career to be a best-selling author and speaker across the globe.
In today's episode, we'll first sort out the differences between Lean In and Lean Out, the gender stereotypes that burden many workplaces, and we'll uncover old power structures that still hold true today. We'll also discuss Marissa's time at Google, her uncomfortable interactions at Facebook, and how to make a real difference no matter what obstacles you face!
Social Media: 
Follow YAP on IG: www.instagram.com/youngandprofiting
Reach out to Hala directly at [email protected]
Follow Hala on Linkedin: www.linkedin.com/in/htaha/
Follow Hala on Instagram: www.instagram.com/yapwithhala
Follow Hala on YouTube: www.youtube.com/c/YoungandProfiting/featured
Check out our website to meet the team, view show notes and transcripts: www.youngandprofiting.com
Timestamps:
01:47 – Difference Between Lean in and Lean Out
05:13 – Why We Have Gender Stereotypes
9:02 – Why Aggressive Women Have Consequences
12:00 – Google Personality Tests
15:53 – Legacy Systems and Underlying Power Structures
18:58 – Narrow Definitions and How to Get Outside Them
25:55 – How Managers Can Make Real Change
31:26 – Opinions on Ways COVID Has Changed the Workplace
34:33 – Marissa's Journey as a Speaker
43:06 – How Facebook Wanted to Put Boundaries on Marissa's Blog
49:52 – Story of Marissa's HR Nightmare
55:21 – Why Marissa Stayed at Facebook For as Long as She Did
56:37 – Why Women are So Competitive
58:58 – Expectations After Marissa Published Her Book
1:03:24 – Marissa's Secret to Profiting in Life
Mentioned in the Episode:
Marissa's Book, Lean Out: https://www.marissaorr.com/the-book/
Marissa's Podcast, Nice Girls Don't Watch the Bachelor: https://nice-girls-dont-watch-the-bachelor.sounder.fm/
Marissa's Website: https://www.marissaorr.com/
Marissa's LinkedIn: https://www.linkedin.com/in/marissaorr
Marissa's Instagram: https://www.instagram.com/marissabethorr/