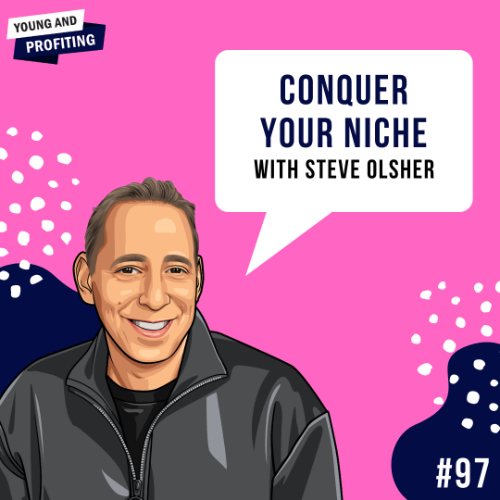 #97: CONQUER YOUR NICHE WITH STEVE OLSHER
#97: CONQUER YOUR NICHE WITH STEVE OLSHER
Want to discover your 'What' in life?
In this episode, we are chatting with Steve Olsher, founder and editor-in-chief of Podcast Magazine, award-winning author, and founder of the Reinvention Workshop. Throughout the course of his life, Steve has had the ultimate entrepreneurial spirit and has created several multi-million dollar companies from the ground up. He is also a New York Times bestselling author with his book, What is Your What.
In today's episode, we chat about Steve's childhood, how became an entrepreneur in college, and his experience with online sales in the beginning of the internet. We'll also touch on how he got to where he is now in the podcast world, how Podcast Magazine came to be, how you can discover your 'what,'
and how to niche-itze your idea.
Sponsored by Podcast Republic: https://www.podcastrepublic.net/podcast/1368888880
Hala's Podcast Magazine Feature: www.podcastmagazine.com/free
Recommended Episode To Listen To Next, #60 with Evan Carmichael
Apple: https://podcasts.apple.com/us/podcast/60-surviving-entrepreneurship-with-evan-carmichael/id1368888880?i=1000469316006
Castbox: https://castbox.fm/episode/60%3A-Surviving-Entrepreneurship-with-Evan-Carmichael-id2827072-id258784066?country=us
Sponsored by Podcast Republic: https://www.podcastrepublic.net/podcast/1368888880
Recommended Episode To Listen To Next, #57 with Jordan Harbinger:
Apple:
Social Media:
Follow YAP on IG: www.instagram.com/youngandprofiting
Reach out to Hala directly at [email protected]
Follow Hala on Linkedin: www.linkedin.com/in/htaha/
Follow Hala on Instagram: www.instagram.com/yapwithhala
Follow Hala on ClubHouse: @halataha
Check out our website to meet the team, view show notes and transcripts: www.youngandprofiting.com
Timestamps:
00:45 – Steve's Childhood and His Natural Entrepreneurial Spirit
04:34 – Why Steve Created a Club in College
11:19 – Reason for Moving Liquor Sales Online
18:25 – How He Overcame Failure
22:09 – What Drew Steve to the Podcast/Radio World
25:45 – Podcasting Back in 2009
30:57 – Story Behind Podcast Magazine
37:30 – Balancing Digital vs. Print Magazine
40:17 – How to Choose Cover Stories
45:39 – Steve's "What"
52:59 – Discovering Your What
54:30 – What You Should Be Feeling When Finding Your What
56:20 – How to Niche-itize
1:00:06 – Why the Clubhouse App is so Interesting
1:06:31 – Steve's Secret to Profiting in Life
Mentioned in the Episode:
Podcast Magazine: https://podcastmagazine.com/
Hala's Cover Feature in Podcast Magazine: https://podcastmagazine.com/hala-taha-podcastings-palestinian-princess
Steve's Book, What is Your What: https://whatisyourwhat.com/
Steve's Website: https://steveolsher.com/
To get a free Lifetime subscription to Podcast Magazine, head here: https://podcastmagazine.com/free