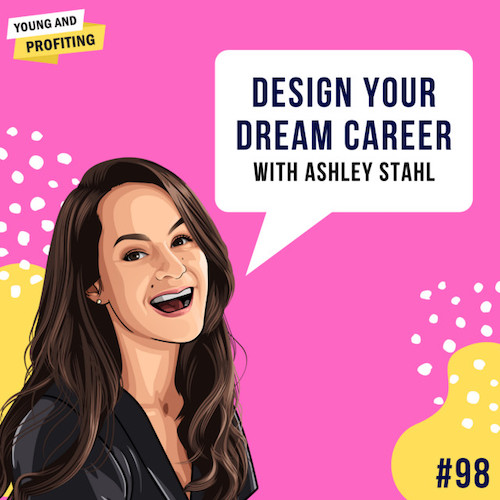 #98: DESIGN YOUR DREAM CAREER WITH ASHLEY STAHL
Looking to find your true passion and perfect career fit?
In this week's episode, we are talking with Ashley Stahl, counter terrorism expert turned career coach, podcaster, author, and entrepreneur. She has amassed a large online following through her podcast, You Turn Podcast, and has had her Tedx talks go viral. Her new book, You Turn, comes out on January 26.
In this episode, we talk about Ashley's childhood career goals, her work in the counter terrorism sector, and how she got to her life today as a speaker and entrepreneur. We'll then dig deeper on her advice to people who are unsure with their career, the best ways to identify job misalignment, and how to set your mentality for major life changes.
Sponsored by Podcast Republic: https://www.podcastrepublic.net/podcast/1368888880
Recommended Episode To Listen To Next: #63: Find Your Dream Job with Kristin Sherry
Social Media:
Follow YAP on IG: www.instagram.com/youngandprofiting
Reach out to Hala directly at [email protected]
Follow Hala on Linkedin: www.linkedin.com/in/htaha/
Follow Hala on Instagram: www.instagram.com/yapwithhala
Follow Hala on ClubHouse: @halataha
Check out our website to meet the team, view show notes and transcripts: www.youngandprofiting.com
Timestamps:
00:33 – What Ashley Wanted to Be When She Was a Kid
02:42 – Ashley's Day-to-Day in Counter Terrorism
09:31 – Advice to People Who Are Unsure
17:33 – Opposition to the Common 5-Year Plan
19:28 – Example of Job Misalignment
22:59 – Transitioning Side Hustles to Full Time
28:22 – Setting Your Mentality For Major Changes
37:44 – Ashley's Failures and How She Rebounded
45:45 – The Process of Writing a Book
50:29 – Ashley's New Book and the Key Takeaways
51:30 – Ashley's Secret to Profiting in Life
Social Media:
Ashley's Book, You Turn: https://ashleystahl.com/you-turn/
Ashley's Website: https://ashleystahl.com/
Ashley's LinkedIn: https://www.linkedin.com/in/ashleystahl/
Ashley's Instagram: https://www.instagram.com/ashleystahl/
Ashley's Podcast: https://ashleystahl.com/podcast-page/