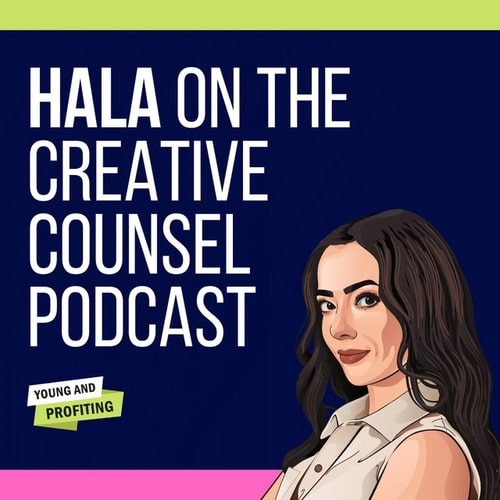 Hala Taha: How I Built A Personal Brand and Massive Following On LinkedIn and YAP Podcast (Creative Counsel Podcast)
Hala Taha: How I Built A Personal Brand and Massive Following On LinkedIn and YAP Podcast (Creative Counsel Podcast)
The podcast world has blown up over the past decade, so the rules for podcasting have changed rapidly and significantly. How can a strong personal brand and social media presence improve your chances of gaining a large podcast following? Good news – The Podcast Princess has the answer!
Hala Taha, dubbed the "The Podcast Princess," is the host of Young and Profiting (YAP) Podcast, frequently ranked as a #1 Education podcast across all apps. Hala is also the founder and CEO of YAP Media, a social media and podcast marketing agency for top podcasters, celebrities, and CEOs. She is well-known for her engaged following and influence on LinkedIn and she landed the January 2021 cover of Podcast Magazine. Her show was recently awarded a 2022 Webby Honoree and is currently on track to bring in over $1M in revenue in advertising sponsorship deals in 2022.
In this episode, Hala joins attorney Brittany Ratelle on the Creative Counsel podcast to share big trends and opportunities in the podcasting space and dish on how Hala used battle-tested skills and perseverance to grow a nationally-ranked podcast from the ground up.
– What to do when your friends and family don't "get" what you're trying to do
– Hala's exact LinkedIn re-targeting recipe
– What is happening with podcasting, YouTube, and long-form video
– What a personal brand should be doing to elevate their offerings
– How to overcome a scarcity mindset, especially in crowded fields
– What you should (and shouldn't) be doing in your podcast journey
– How to monetize your podcast (with ads and beyond!)
Brittany Ratelle is a lawyer who helps creators, creatives, and online entrepreneurs cut through the overwhelm of getting their businesses legally legit. She has a background in PR, marketing, and law and has helped hundreds of business owners easily navigate the process of protecting their businesses, like Brit+Co, Six Sisters' Stuff, The Alison Show, The Bucket List Family, and YAP Media. She also hosts the Creative Counsel podcast, which helps creative entrepreneurs and influencers confidently grow and scale their modern brands.
More About Young and Profiting: