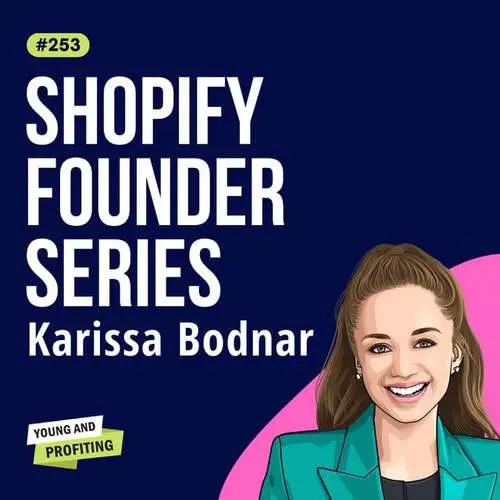 Karissa Bodnar, Thrive Causemetics Founder: Entrepreneurship Gave Me The Freedom
Karissa Bodnar, Thrive Causemetics Founder: Entrepreneurship Gave Me The Freedom
Karissa Bodnar was in her early twenties and working her way up the cosmetic ladder, from a make-up artist at Sephora to Clarisonic and then to L'Oréal. But when she hit a brick wall after losing a close friend to cancer at 24, she came to the realization that she had to stop waiting around and build the beauty company of her dreams. She started her own company from her one-bedroom apartment, taking orders herself and making product formulas on her kitchen counter. That company, Thrive Causemetics, is now a multimillion-dollar business, selling "clean" cosmetics that can be worn by everyone. In this episode, Karissa shares the details of the stages of her entrepreneurial journey and how she was able to get her company from the kitchen counter to where it is today.
[00:00:00] Hala Taha: 
[00:01:44] Hala Taha: Welcome back to the show, Young and Profiters, and boy are we living in exciting times. As Harley Finkelstein, the president of Shopify, put it to me recently, entrepreneurship is having a renaissance moment. More people than ever are starting a business and the tools and technology that are available to help with this  have never been better.
Today's episode is part of a special series that we're doing with Shopify about how technology is changing the landscape of entrepreneurship and how technology is empowering founders to disrupt industries  Like never before, and often from the comfort of their own homes. In this series, we're talking with trailblazing founders and learning how platforms like  Shopify enable them to compete with the heavy hitters in their industries.
Today, I am thrilled to be joined by Carissa Bodnar, the founder and c e o of Thrive Cosmetics, a vegan direct to consumer cosmetics brand  that has been shaking up the beauty industry and making waves previously unimaginable for such a young company.
Carissa, thank you so much for being here and welcome to Young and Profiting Podcast. 
[00:02:43] Karissa Bodnar: Thank you so much for having me. 
[00:02:45] Hala Taha: I am so excited because you are an extremely successful young female entrepreneur. And I'm a real girly girl. So I love makeup. I've used Thrive products. I was probably one of your first customers. I bought your mascara a long, long time ago.
And so I'm really looking forward to hearing the behind the scenes of your incredible founder's journey. And before we get into all of that, I did want to spend a bit of time on your background, understanding where your passion from entrepreneurship came from, and your passion for the beauty world as well.
And so I found out that you grew up on a farm in Washington. So what was young Carissa like back in the day? How did growing up in Stanwood shape your entrepreneurial 
[00:03:26] Karissa Bodnar: spirit? Oh my gosh. Well, first of all, I have to say thank you so much for purchasing our products. That means so much. I am only here because of our customers and I very much remember what it was like to have that Shopify app on my phone with zero sales.
That was the first few years. So I very much appreciate you purchasing from us because that's how I get to be on this podcast. So thank you so much. But to answer your question, growing up in Stanwood was magical. I love the fact that I grew up with. out cable or internet and was on a farm literally on a dirt road surrounded by animals.
I was sandwiched in between a cow farm, a sheep farm, a horse farm. And then we had a little bit of everything at our farm. It was the best to answer how I was when I was a child as I was definitely full of energy. I was very creative, I loved telling stories even before I could write them, to the point where I would sit down with my mom and say, Mom, Mom, I have a story and she would recite it.
I remember that. I was always challenging the status quo. I wouldn't say that I was an easy child to raise by any stretch of the imagination. I had a lot of passion for whatever I was focused on, whether it was the latest infomercial I had seen, or, and Mom and Dad, we have to buy this! Or creating a lipstick in my parents kitchen using a bunch of different ingredients like Crayola crayons and steamed rose petals.
So I had a lot going on, but ultimately when I think back about that, I think about how the challenging parts of me ultimately helped give me strength and the challenges that I went through helped me become more resilient. 
[00:05:06] Hala Taha: I love that. I love your story and I learned that you've been passionate about entrepreneurship since a young age.
Ever since you were a little girl, you had an incessant need to create. What were some of the examples of you scratching that entrepreneurial itch as a child and teenager? 
[00:05:23] Karissa Bodnar: Trying to. So okay, so this is a funny one. And I know the statute of limitations has, has passed from me, um, stealing toilet seat covers from my middle school, Port Susan Middle School in Stanwood, Washington.
No, this is a joke. So my dad was an educator and I spent a lot of time in the schools, whether it was the school I was going to or another school in the district. And I remember being at Port Susan Middle School and reading in Allure magazine that toilet seat covers, were a pro tip for if you were out and about and you needed to mattify your skin, we've all experienced that oily skin feeling.
So whether you're using a setting powder or a blotting paper, what now has become blotting papers. This is something that before they were mass produced, I would take toilet seat covers from Port Susan middle school and cut them and then take computer paper and make a cover for it. So it looked, quote, professional.
And then I would sell it to my different classmates. I would sell it door to door. Including the door of my parents and my parents were like, what are you doing? We're, I think they indulged me a few times by maybe throwing a dollar my way. But, you know, growing up on a dirt road on a farm, I didn't have a ton of neighbors and so lemonade stands while I did them a few times.
We're not the most lucrative. So when I looked at the PNL, no, I'm just kidding. So I was always coming up with different things to create and trying to sell them. I went through an or making orange Julius phase where I was making orange Julius's. Did you ever go to orange Julius? No, I don't know. Smoothie place.
Okay. This is a throwback, but we didn't have one in my town. We didn't Stanwood back then, but I discovered through my home at class, how to make smoothies basically. And Because I knew that they would upcharge for different boosters like protein or calcium when you would go to the mall at Orange Julius, I tried to do that by grinding up calcium pills and putting them in a smoothie for my dad with that same recipe and trying to charge him for it in his own house like I'm living rent free and I'm charging my parents and I mean, I remember my dad was like, No, no.
So I was always hustling, always trying to sell things, whether it was door to door. Or, you know, throughout the community, but there's so many fun examples. I also, when I was in high school, you know, I went through a really challenging time when I was in high school. I think so many people do middle school and high school were tough and I was lacking purpose.
And where I really feel like I got the opportunity to create my first product that was commercialized was I made a monopoly board and I went door to door to the local businesses in the town I was living in and I sold those squares that like Park Place was a local business. So it was an advertising opportunity for those people, those business owners, I should say.
And it covered my cost of goods. So the shrink wrap, even like I had color on the outside of the box, it was called Twin Cityopoly and I had color pictures on the outside cause that was more expensive. And then on the inside it was black and white leveraging more of the vintage photos from the town. And it was advertising that I was sharing with them.
My pitch was like. You're going to pay me 400 right now for this square and this advertising is going to live in perpetuity for you. And when I do radio on the local radio, you'll be able to get advertisements if you buy this type of square with me. So I learned upselling, I learned salespersonship, I learned product development through creating that monopoly board, which ultimately was a fundraiser for my future business leaders of America chapter.
I went from this state of being highly disengaged, depressed, and really struggling with even being motivated to go to school every day to then coming alive. And so that was where I really solidified like, wow, I can do this. And I'll never forget what it was like to hold that Twin Cityopoly board for the first time.
And it really was my first commercial product and it ultimately raised 25, 000 for the local chapter. Yeah, because it covered the cost of goods. And then we would sell them at local businesses. And so it was, it was a really awesome opportunity for me. And I, I will always be grateful for future business leaders of America and DECA.
Which is a marketing organization for high school kids and I'll always be grateful for those experiences because it really changed my life. 
[00:09:54] Hala Taha: Yeah. I mean, it sounds like you were a hustler for such a long time and I was very similar. I started my first business when I was four years old selling like pictures at Sunday school that I would like make my cousins make.
So very similar to You are incredible, wow. Your, uh, blotting papers that you created, now you see them everywhere. I had a similar story where I would cut up, like, silicone scar sheets and, and, like, those band aids that are, like, gel band aids, and I would use them for my pimples, and then I would give it to all my friends, and now they've got these pimple sticker sheets everywhere.
So it's so funny how when you're young, you just, like, invent these things, and if, if I had focused on it, or if you had focused on your, your blotting papers, You know, who knows what it would have come about, but so cool 
[00:10:39] Karissa Bodnarr: to hear your journey. That's incredible. You are a genius. That's amazing. 
[00:10:43] Hala Taha: Scrappy, maybe.
I don't know about genius, but thank you. That's sweet. So I also found out when I was doing your research that you have a grandmother, Ruthie, who really inspired you. She was an immigrant who came to Ellis Island, and you say you carry a lot of her spirit with you. Can you talk to us about that? 
[00:10:59] Karissa Bodnar: Oh my gosh.
Yes. My grandma Ruth and my grandma Jackie are two of my biggest inspirations. My grandma Ruth did immigrate to America, and she came over from Germany during Nazi Germany, so it was a war torn country, and she was such an, a tenacious person who overcame so much not only was she an immigrant to the country, and I think so many people can relate to that, Without going to college, working at a bank, she had an amazing career, then ultimately became a mom, and was a lunch lady, and like, she just was always hustling, always doing different things, there was no excuses with her, and both of my grandmothers, my grandma Jackie, was such an amazing spirit because You know, in the 90s when they would say, Oh, kids are so cute.
I feel like now they don't tell kids that they're cute anymore that that's good. It's like, Oh, no, you're smart. You're strong. And you see all those amazing tick tocks where people are sitting there reciting like I am powerful with my kids. Literally my grandma Jackie would do that with me. And so she would take me in front of the mirror and say, I am powerful.
I am strong. It's okay to cry. And when people would tell me, Oh, she's so cute or say that about me, she would say, No, no, no, no, no. Tell her she's smart. Tell her she's going places. And I get choked up just thinking about it because it left such a major impact on me. And so both yeah. My grandma Ruth and grandma Jackie are huge inspirations to me and unfortunately they've, they've since passed, but I have amazing grandparents and I also I have an amazing bonus grandma Sandy, who talk about badass.
She was working in tech in the 80s and 90s, one of the only women doing what she was doing. Truly amazing. And she has always supported me. My grandpa Gary, who is kind of famous on our Instagram. I was, uh, lucky enough that they got married after my grandma Jackie passed away and she's just been such an amazing bonus grandma.
I don't like saying step grandma. I'm like, she's a bonus grandma. 
[00:12:56] Hala Taha: So let's talk about how you fell in love with the beauty industry. You say that at 10 years old, you knew exactly what path you wanted. You wanted to be in the beauty industry and you took multiple different paths in that lane to ultimately land where you are today.
So when did you first discover that you had such a big passion for beauty? 
[00:13:15] Karissa Bodnar: Oh, my gosh, because I had messed up teeth and I didn't like how my face was looking. You know, I was like, you know, it's like so many kids, you go through those stages where you're like, Oh my gosh, my teeth are so messed up. And I don't know, you know, I have blemishes and how am I going to act in this elementary middle school time?
So I think from that perspective, it was the confidence that it gave me. And it also tapped into this creativity, like we talked about earlier, that I, that I've had since I was born. And so the creative side of me, plus the way that makeup and skincare and hair care, we all know what we feel like when we have that amazing mascara on or that power lip.
I discovered that really through my own insecurities, but I've always loved in the beauty industry. The way that it makes people feel confident, because when we are confident, we are unstoppable. And we all go through phases even throughout the day where sometimes we have imposter syndrome. There's nothing that a little lipstick can't do to overcome imposter syndrome and give you that power lip that you need to go rock that meeting.
[00:14:21] Hala Taha: Yeah, I love it. I love that you took this passion and you built it. into a business as an entrepreneur. You know, I was always really into makeup and beauty and I even went to school for chemistry because I wanted to make makeup. It's so funny. And I ended up not being great at chemistry and I switched to marketing and did this whole other path.
But it's just so cool that you knew what you wanted to do since you were little and you kind of just kept at it and took different turns and 
[00:14:48] Karissa Bodnar: This is something I'm really passionate about. I spend a lot of time with girls in STEM. And what I have found, and I'd be curious your perspective because you studied chemistry, I was also not the best chemistry student.
What I was really good at, though, was cosmetic chemistry. I just didn't know that's what I was doing in high school. I didn't know that. And so if the subject matter had been targeted towards an industry that you may have been more passionate about, like cosmetics, do you think you would have been a successful chemistry student?
Definitely. 
[00:15:17] Hala Taha: I think I would have honestly done something similar to what you had done. but like, it's just so interesting that you can 
[00:15:24] Hala Taha: find purpose in your passion. It is totally possible.
And even today, I didn't go that route, but maybe one day I will find myself back there, you know, selling skincare or whatever it ends up being, 
[00:15:35] Karissa Bodnar: right? You got to get in the lab with me. Let's do it. Yeah. We can name a product after you. We name all of our products after inspiring people and it would be incorrect.
We can, let's go to the lab. We'll make it. Do you want a lipstick? You want an eye shadow? 
[00:15:47] Hala Taha: Probably lipstick or like, yeah, lipstick would be awesome or lip gloss. I'm really glossy. I was wearing a gloss. You gotta 
[00:15:55] Karissa Bodnar: mix it with me. Yes. Hey, you know what? I cannot bake you a cake worth a damn, but I will make you an amazing lipstick.
I love 
[00:16:02] Hala Taha: it. So in terms of your beauty career, you were a makeup artist at Sephora for Many years, you then worked at Clarisonic, L'Oreal, and you mentioned your grandmothers, three of them, who were great female mentors to you, but you also had another mentor that was not family. And it was an executive that you met at L'Oreal that you say changed your life.
Can you talk to us about that? 
[00:16:27] Karissa Bodnar: Yes. Oh, my gosh. So I stand on the shoulders of giants first and foremost, and I get emotional when I talk about it, but who you're talking about is Carol Hamilton. And she made such an impact on me when I first met her, L'Oreal had just purchased Clarisonic and I did not know what that meant.
I was like, wait, did a drugstore brand just buy us because we were a luxury brand. You know, we were sold at dermatologists and plastic surgeons. And I was creating formulas with them to really change the game of, uh, you know, if people aren't familiar with Clarisonic, it was a really amazing innovation for facial cleansing.
And so when Clarisonic was purchased by L'Oreal, I met this amazing woman who I think is 5'2 as well, cause I'm 5'2. So this amazing woman with this fabulous blonde bob came into our office in Redmond, Washington, and she came to talk to us. And I just went up to her and I was like, her name was Carol Hamilton.
And I was like, I want to be just like you and, you know, and, and tell me all about your journey. And she said things to me that left such a profound impact, like, you know, I may not have an MBA and I feel like MBAs are not as needed now. I don't have an MBA, but Carol was like, I may not have an MBA, but I have an MBA in the beauty industry.
And let me talk to you about how I worked my way up through the industry. And I remember I was fortunate enough and Carol was a part of why I got to do this was to go to Paris when it was called Mondial, which was our annual meeting where we would create these amazing products and then pitch them to our countries, the international countries because L'Oreal is a global company.
Those country managers were our customer. So, you know, now a lot of beauty brands, your customer is either like, if you're Thrive Cosmetics, it's your customer that's on your website because we're a hundred percent direct to consumer. Or if you are another beauty brand that's maybe sold at Sephora, your customer is Sephora.
And so I got to pitch to our country customers and. I remember sitting there with Carol in this amazing auditorium and I just said, Oh my gosh, Carol, you, you've changed my life. You really have been such a force in this industry and anyone who knows of her or knows her knows that she's a legend. I mean, she's like the Anna Wintour of beauty.
She's amazing. And she said, I paved the way so that you could change the industry. And I like, I'm like literally going to cry because To tell a 22, 23 year old person that there's, you know, still basically a kid to have somebody say that to me, I was like, Oh yeah, why couldn't I change the industry? So someone like her, you know, Blythe Jack, Leslie Blodgett, I mean, there's just so many amazing people who've paved the way for me.
And I know that I, I am only here because so many women, I mean, I have had it easy compared and by the way, entrepreneurship is hard. It's really hard. It's a seven day a week, 24 hour thing. Even 10 years into it, it still is for me. It ebbs and flows, for sure, but it really has to be a calling. And I also recognize that there are women like Leslie Blodgett, who is the founder and CEO of Bare Minerals.
She paved the way for me. She had it so much harder. And she still doesn't complain. She's one of my role models. So I just, I've been so absolutely blessed in this industry to be surrounded by incredible people who have helped pave the way for me and still are. 
[00:19:43] Hala Taha: Oh my gosh, you're making me teary eyed. I could tell that you feel so passionate about that.
So, shortly after this, you actually hit a really dark point in your life, and you lost a close friend, Christy, to cancer. And out of darkness, a lot of the times the biggest shining moments come about. And you've said that you remember sitting at her funeral and being highly aware that she lived her life to the absolute fullest.
And that really inspired you. So talk to us about how that tragedy really helped you pivot your career, gave you more purpose and how that loss really impacted the next steps that you took in your life. 
[00:20:23] Karissa Bodnar: Yeah. You know, it's, it's still challenging to talk about, honestly. But I think that. All of us can relate to this moment when there's some tragedy that happens during your life.
A lot of times it is a death of a loved one. And those are the moments where you take stock of your life and think about, okay, well, what am I doing every day to contribute to the world? Is what I'm doing getting me to where I want to be? And I was where I wanted to be in the sense that I loved the beauty industry and I felt so much purpose in what I was doing.
But what was missing for me was philanthropy and giving back and, you know, credit to my family. I was always surrounded by philanthropy and I really do think growing up in a church was a big reason why I have that in my DNA. So very much appreciate that about my family. And I also think, you know, being a millennial, we want to change the world.
We want to give back. There were brands that were, you know, during breast cancer awareness month donating, you know, 10 percent of sales to a breast cancer charity. But I thought, what if we could do it every single day?
What if everything that we did was surrounded around purpose? in the fact that we are creating products for consumers that are purposeful and that are different, that are truly differentiated, creating things from scratch, but really also honoring people by the way that beauty is this vehicle for connection and confidence.
And so that's why I wanted to donate makeup and skincare. And my goal from the beginning was to be able to donate a full face of makeup and skincare. I wanted people who had experienced domestic abuse or who had been unhoused to arrive at one of those giving partners like we have Mary's Place, one of the largest homeless shelter networks in Washington.
I wanted them to arrive and have beautiful luxury makeup and skincare available to them. And I started with one product and I started with one charity and one cause. And it was specifically the cancer community that I started with. And then it grew to domestic abuse. Then it grew to the unhoused community, veterans were very active with the LGBTQ plus space and really want to support underrepresented minorities.
And it's just so amazing to think that I started with one charity in Washington state and now it's grown to all 50 states around the world. And that really is a testament to our community and our customers. Because they had a vision that was so much bigger than what I could have even dreamed of when I first lost Christy.
I'm also really grateful that Christy's family is still involved in the business and our 10 year anniversary is coming up soon and we're working on something really exciting with the charity that Christy worked at, the Tanzanian Children's Fund. So, it's amazing to honor her life and I wish she was still here, but in so many ways, she is here, you know, she's just present.
I see her in the eyes of our beneficiaries and getting to still have such a close bond with her parents and her brother and his wife, like, it's just so special to see the way that I've been able to honor her, this community has, and ultimately so many other people. 
 Yeah, that's so incredible. It's so awesome what you're doing.
[00:23:38] Hala Taha: You guys have donated, I think, 135 million in charity. It's crazy what you guys have done. It's incredible. And nothing is better than when you align purpose to profits, right? And so it's awesome that you're able to create jobs and also help people and support your friend's family like you just mentioned.
So it's awesome what you're doing. In addition to you getting involved with charity, another big aspect of your brand is that it's clean, it's 100 percent vegan, there's no sulfates or parabrands. It's really good for you. And I know that it's good for people who have immunocompromised health issues, 
[00:24:17] Karissa Bodnar: right?
Yeah, we work with oncologists and ophthalmologists to evaluate our formulas in addition to dermatologists and plastic surgeons. 
[00:24:24] Hala Taha: So for people who may not be aware, why is traditional makeup not good for these types of people? And not good for anyone, quite frankly. 
[00:24:32] Karissa Bodnar: Yeah, I mean, I think clean is a bit of a buzz term to be fully transparent.
And I think you have to define what that means to you as a company. Like sustainability, it's a continuum, so we're never finished trying to be cleaner as a beauty company or to be more sustainable. So there are certain ingredients like parabens and sulfates, which can cause irritation in the skin. They can be endocrine disruptors.
There are a lot of dirty ingredients that have historically been in makeup, and I think the industry as a whole is moving towards cleaner ingredients. And so for me, though, it's really important to get the leading experts, especially in the space of oncology, because we know that skin is our largest organ.
And so what can we be learning today and tomorrow and five years from now, that's going to ultimately have an impact on our skin. I love to say the term infinite impact. Every time we're creating a formula, it's like. What we do today and what we create today is going to have an infinite impact both from a sustainability perspective, from a health perspective for our consumers.
And we're never finished. We're never finished trying to be cleaner. And there's always amazing technology that we, our beautiful team here at Thrive Cosmetics and Bigger Than Beauty Skin Care is actively working with different regulatory groups and experts in the medical field to create formulas that are clean and also effective though.
Because if your formulas, I mean, I remember when paraben free and sulfate free was kind of like gluten free bread in the 90s. It was a little like, uh, cardboard. And so that innovation is always happening and so you have to have your finger on the pulse and I'm really grateful to work with amazing people at this company that help us do that.
[00:26:15] Hala Taha: Yeah. And so, like I mentioned before, skin care junkie, makeup junkie, I was always trying to get natural products. And when I first came across your product, I think it was on Instagram, you guys knew exactly who to advertise to. Yes! I remember being like, wow, this is so different. This is vegan. I buy makeup online, I've never done that before, so it was very different.
So curious to understand, when you first came out, was there a lot of education that you had to do around this topic? 
[00:26:43] Karissa Bodnar: Absolutely. You know, I've always said that people purchase our products because they're high performance and because they're doing something that they can't get elsewhere. So, we can't put an asterisk next to vegan and cruelty free and paraben free, sulfate free, all the things.
We can't put an asterisk next to that and say, oh, and it's not going to perform as well. Like, it has to actually perform better than the competition. And so, I've always led with product performance. Because I'm the end user, like I want amazing products that are better. And so we're always testing products as we're developing them with our customers to make sure that they're going to not, not one product is for every single person in the world, by the way.
So that's the beauty of it is that you get to create a bunch of different products. But I've always said that the vegan and cruelty free is kind of like the cherry on top. It's something that's in my DNA and ethos, and I'm not a vegan eater, but I do believe that in creating vegan beauty products, I, I think that you can actually create more innovative products.
So for example, our eyeliner or Brilliant Eye Brightener, a lot of those types of formulas historically would have beeswax in them. And because I couldn't use beeswax. It actually inspired me to kind of throw out the rulebook and come out with something that was really a game changer. And so that's where I started using the same pigments that were used in microblading, which is a brow treatment.
We could talk a whole chemistry session on, on how it has inspired me, but. You know, we did educate the consumers, but there's still a lot of people who don't even know that we're vegan or cruelty free. Also, there's a lot of consumers that we have in our community that don't even know we give back.
They're just like, this is the best lipstick I've ever used. So I think you always have to lead with what's going to be your key differentiator. And sometimes it is values. Sometimes I would say, honestly, for us, I don't think we would be where we are if we didn't have amazing products that really did something better for the consumer.
[00:28:36] Hala Taha: I love the way that you're positioning this and it makes a lot of sense. And also I want to call out this idea that when you have constraints, sometimes that actually unlocks a lot of creativity like you just said. 
[00:28:47] Karissa Bodnar: Scarcity drives focus. I say that all the time. I literally have a sticky note on my wall that says that.
Scarcity drives focus, you know, I was one woman for three years in an apartment doing this, you know, so I didn't have a team. And every product that I launched had to fund the next one because I wasn't, you know, we didn't have a ton of funding or we didn't have any funding in the beginning.
And, you know, the business was a sizable business before we took on any funding. And even then it was a tiny amount because you can drown an opportunity as an entrepreneur. Right. And so even now. We've had an amazing team for six and a half years, and I am so grateful for that. Even still, I'm turning down a lot of the quote, fun opportunities to go to networking events or even doing press because I'm in this office five, six, seven days a week.
Sometimes I feel like on social media, you see a lot of highlight reels with pro tips from entrepreneurs. And quite frankly, I don't even have time to post on social media because I'm running a company. And I think that there's a lot of glamorization of entrepreneurship. But I really think it's important for people to know that it has to be a calling.
It cannot be a job to you. And going back to scarcity driving focus, I think it's like, if the house ain't in order, I always say this to the team. It's like, if the house ain't in order, I'm not going anywhere. There are times where I've basically slept at the office multiple times. And, you know, I don't necessarily advertise that to the team or to the public because I don't want to indulge in this hustle culture.
Because I don't want to say, Oh, you know, don't have work life balance. I want that for our team. But as an entrepreneur, I think it's a pretty idealistic state. And so also I'm building the plane while flying it. I had not managed large teams before starting the company. So I have to study like I'm getting a PhD in business.
I have to read so many leadership books. I have to get my reps in. I have to make mistakes. And so something that maybe would take an experienced CEO less time. Takes me three more times, but what I do know about myself is I will I will die trying like I will never quit I will always show up and try and do my best and that's what I've been doing But scarcity does drive focus and right now my scarcity is time.
And so that's where it's like Even being here on this podcast is really a privilege because I love bragging about our team and talking about how amazing our customers are. But sometimes it's really challenging to be able to do it all for sure. I totally 
[00:31:15] Hala Taha: understand. It is hard to be an entrepreneur. It is hard to find the time.
And honestly, it's so exciting. It's hard to stop working when you love what you do, you know, and you obviously found. A career in something that you love so much. So speaking of this constraint of time, you started your business as a side hustle just like I did and you worked for two years. While building your business on the side, which I think is so cool to know because your business is a really popular brand.
Like a lot of people have heard of Thrive Cosmetics. I'm sure at least 80 percent of people listening right now have brand recognition, which is 
[00:31:50] Karissa Bodnar: 
[00:31:50] Hala Taha: huge for you. You know, you've done a great job. You think? 
[00:31:52] Karissa Bodnar: That's so 
[00:31:52] Hala Taha: cool. Yeah, I think so. I mean, I'm also, maybe I'm biased because I'm just obsessed with makeup, so I know about Thrive.
But I think a lot of people know about Thrive. So talk to us about those first two years. What were they like for you? What was it like balancing full time and starting this new thing that probably a lot of people told you you were crazy doing? 
[00:32:10] Karissa Bodnar: You know, working a full time job was a huge thing for my mental health because it gave me security.
I was making 70, 000 a year and it funded the Thrive Cosmetics inventory. It also paid my rent. I had a 2007 Honda Civic and nobody who wanted to invest in a 24 year old starting a beauty brand in Seattle, Washington. People were like, Oh, that's cute. You know, I didn't know what a venture capitalist was or an angel investor.
And I'm glad I didn't because it allowed me to, again, going back to scarcity driving focus, I had to be super focused. And what I will say, and to any entrepreneur that's listening to this, If you want to be an entrepreneur, I highly recommend working a full time job and being transparent with your employer about that.
Because for example, with Thrive Cosmetics, when I wanted to start it, I had an idea and I knew how to make products. I didn't know how to do anything else. So could I do that while I was working for the world's largest beauty company, L'Oreal? Absolutely not. Absolutely not. That's a total conflict of interest.
So I went and worked in the nutrition category, and that allowed me to be transparent with that entrepreneur and say, Hey, you know what? I will give you 110%. I will be one of your best employees, and I want to start this on the side. And I showed up. It's like, don't quiet quit on your employer. Show them respect and say, I want to do this, and I'm going to be one of your best employees.
And because I did that, that entrepreneur mentored me, that entrepreneur brought me into conversations that I wouldn't have otherwise been a part of. So it was really, uh, an amazing tool to have a job while I was working. There's so much hurry up and wait when you're creating a company. It's not like you're doing your company 24 seven.
When you're formulating something, then you have to send it off and send it to the lab for testing. And there's so much you don't know how to do, so I really love that I had a job. It's also super lonely. Any of the challenges that I go through now. They totally pale in comparison to those first few years where you have no customers.
 I thought, Oh my gosh, you know, I worked at Sephora. Of course they're going to want to carry us.
Oh, I also worked at Nordstrom and I was on the Nordstrom fashion board and at one point had aspirations to be the CEO of Nordstrom when I was 18 years old. I thought that they would want to carry us and this is no shade to them. I think Sephora and Nordstrom are amazing, but like, I couldn't get anybody to carry our products.
And so the fact that I had a full time job really allowed me to have peace of mind. And then I also just, you know, didn't look at my bank account because it got pretty close to zero there for a while, but I was able to pay my rent. So that was really important to me. 
[00:34:53] Hala Taha: My next question for you in terms of your young business where you're saying you were struggling for sales.
What were the initial sales channels that you did try? 
[00:35:01] Karissa Bodnar: Uh, sitting outside of every retailer across America, trying to get them to carry our products. Literally booking a one-way flight to pitch them and then having them cancel the meeting before I showed up. Oh, no. Yeah, I mean, that was the first couple of years.
I did have thrive cosmetics.com that, that I built on Shopify. The only way. That I got customers was through word of mouth, or if we were on TV, maybe we would have, because for some reason, the press was so kind to me when I first started. I'll never forget Susie Welch was such an angel.
Her and her producer put me on the Today Show with Hoda and Kathie Lee at the time. And they did like a, was it a five minute, like basically commercial for me, for us Thrive. In November of 2015, and I'll never forget it because we did like 38, 000 in sales that day, and I fulfilled all those orders out of my apartment.
And to go from 0 the day before to 38, 000, nearly 40, 000, I was like, Oh my gosh, we made it. And then the challenge with that, though, is that it drops off. And so I had to figure out how to build a community online. I really did it one person at a time building relationships, and I'm still close with a lot of those people that were customers.
In fact, we're having a customer party at our innovation center, a Taylor Swift customer party where we're all going to do a get ready with me and hang out and we're going to pack out 1989 so 1989 packages for donations to their makeup bags that we fill with our makeup and skin care for our local giving partners.
So our customers have become some of my dear friends. I have a hundred of them that I will text before ever naming a product or finalizing a formula. And they are our greatest investor. That's how I'm here today. That's 
[00:36:50] Hala Taha: so cool. I love that. So let's talk about the back end of your business. You talked about Shopify.
I didn't realize that you were a hundred percent DTC. So you're selling everything DCC. There's nothing in 
[00:37:03] Karissa Bodnar: stores. 100 percent direct to consumer and anything you see on Amazon is counterfeit or diversion so don't buy it. We actually have a counterfeit issue with Amazon. It's a big issue in the beauty space.
There's a lot of counterfeit on Amazon. But yeah, 100 percent direct to consumer. Have always been on Shopify. Taught myself HTML so that I could update those product detail pages. And, and it really is a user friendly software, I will say. And this is not a Shopify commercial. I am a product developer, cosmetic chemistry, makeup artist type of gal.
So the fact that I was able to figure out a lot of it Is really credit to the product and the tool. 100%. 
[00:37:44] Hala Taha: And I know you started in 2015. Now Shopify is like so plug and play. You can even use AI to have it like help design your store and all. They've come out with so many new features. So how has Shopify really helped you expand and get new customers as you were trying 
[00:37:58] Karissa Bodnar: to grow?
By having tools that we can, so Lucky Orange, for example, was a tool that we utilized where we could see where people were highlighting on the ingredient list. And I kind of, it was kind of like my favorite TV show for a while was Lucky Orange, which by the way is an app on Shopify. It's like you can see where consumers are engaging on your website.
So if you can't afford to do some of the consumer engagement studies that we do now through, you know, in partnership with Shopify and other partners where we're getting that real time feedback, it does give you directional information on where consumers may be confused on your website. So I think that's one example.
I really had to build the community online. In a myriad of ways, whether it was social media, whether it was email, whether it was SMS, but with Shopify, the agility to update different things on your website as you learn from consumers is really key. And I I've loved being partners with them. It's 
[00:38:58] Hala Taha: so important because a lot of entrepreneurs, they spread themselves too thin.
So you could have taken the approach of I'm going to build this website from scratch. I'm going to own it 100%. I'm going to figure out how to get an e commerce plug in, I'm going to figure out how to get all these different apps. You would have wasted so much time and energy and focus instead of just focusing on building a good product and getting customers, right?
So Shopify just let you do the rest. 
[00:39:22] Karissa Bodnar: Absolutely. To your point, it's gotten better year over year. And one thing I will say about Shopify is they have really listened to us as we've become a larger client of theirs. But I would say even when we were smaller, like. They do take the customer feedback in, similar to how we do, you know, with our consumers.
We're, we're always asking for feedback, and I do believe That their founders are really incredible too. So it's a really exciting business and I love working with Shopify. 
you were talking about AI designing different. PDPs, all of the different templates that they have. There's really something for everyone. And the shop pay. Oh my gosh, shop pay is great as a consumer. I love shop pay. So I feel like they're really leading the industry in the way that they're always innovating with their different features that they're offering.
[00:40:11] Hala Taha: Yeah. And now your company is huge. So I Shopify in the back end. Oh no, I am. Oh, 
[00:40:17] Karissa Bodnar: you are? Oh yeah. I mean. Our blog needs a redesign for sure, but I still look at the Google Analytics and Shopify data on how much revenue, the different search revenue, my blog posts around hyaluronic acid, the difference between hyaluronic acid and sodium hyaluronate.
That is one of our best performing blog posts from a search revenue perspective. So I am still in that back end. I'm annoying like that. The team's like, please get out of 
[00:40:42] Hala Taha: this. Please, please. Me too. I'm that annoying CEO. I'm addicted to there. I love to like put up a LinkedIn post and then I go and I look at the live view and I see all these people in the car and I'm like, Oh my God, they're checking out.
[00:40:54] Karissa Bodnar: Oh my gosh. Thank you for reminding me of live view. It has gotten so much better year over year. So I used to have Shopify the app. I still have the app on my phone, but I used to get a notification every time an order would come through. Then when the business really took off in 2017, my phone would literally crash from it.
And what I will say though, is during the pandemic, I got my grandpa Gary, an iPad. And he has the Shopify app on his iPad, so he knows sales better than I do. So if you really want to know the sales of Thrive Cosmetics, you need to actually reach out to Grandpa Gary because, no, I'm like literally made him sign an NDA because I'm like, you cannot keep bragging about us like you have to, but he watches live view from his chair while he's sitting there during the day.
It's amazing. 
[00:41:40] Hala Taha: Shopify is awesome. I set up my mastermind with their subscriptions. I set up chatbot in like two seconds. They are awesome. But let's move on to your audience and creating a strong brand. So you touched on this earlier. And part of your messaging is that Thrive Cosmetics is bigger than beauty.
 We talked about 
[00:41:58] Hala Taha: all the great things that you're doing for charity in the community. But talk to us about how that actually helps you attract customers and build a bigger brand. 
[00:42:07] Karissa Bodnar: That's such a great question because I always think about it in the inverse.
Because again, like we were talking about with products, people are only buying our products because they're doing something amazing for them. And our community really fuels the cause. In the sense that they are the ones that are going on ThriveCosmetics. com and nominating charities. And then we take those nominations.
We have an amazing giving team that looks into all those different charities. And then consumers are allowed to vote. And also our employees are ultimately deciding the charities that we work with. So I think it's more of a community engagement piece. And ultimately the customers are fueling the giving versus the giving attracting customers.
I think, I think it's really the product performance that's attracting customers. You know, people are like, how do you quantify the value of your giving? I'm like, I don't know. I'm still here. I wouldn't be doing what I'm doing without the philanthropy because if we were just another beauty brand that was selling makeup and skincare, I wouldn't be doing this.
I would, I would be very happy working at L'Oreal, trying to work up the ranks there. And so for me, the way that our consumers have helped build our cause so much bigger than bigger than beauty, I mean, truly like that's why we named it bigger than beauty skincare because they have helped build the products.
The purpose, the cause, the community, and they're really allowing us to reach into these more grassroots organizations. So I'm really proud that we've donated to over 500 charities, and we would not have been able to do that without our community nominating them on social media or on thrivecosmetics.
com sending us emails, texts of who they want us to give to. Because a lot of these charities that we support are three people in a room and they're all volunteer. I'll give you a recent example. When the wildfires hit in Maui, we were able to post on social media, send out emails and SMS and do a blog post where we ask people to nominate charities.
And that resulted in us being able to reach, I believe, eight new charities, two of them we were already giving with but we added on the Maui Humane Society and I believe seven other charities that ultimately resulted in us donating 50, 000 both with funds and also products to those charities.
And that was because of social media and the power of our community telling us about the charities that were on the ground doing the work. 
 I think there's some important lessons in what you just said. The product performance brings the initial customers in the community and having a common purpose and mission sort of keeps them in the sphere of supporting your products even more.
[00:44:54] Hala Taha: So it helps probably with recurring purchases and all those kinds of things because they feel like their values now identify with your brand, not just the fact that it performs so well. 
[00:45:03] Karissa Bodnar: Yeah. And another thing around our community is that we name all of our products after inspiring people like we were talking about, and a lot of those people are our customers.
So, like, the Brilliant Eye Brightener that I have on today is named after Ai Lin, one of our customers who was really passionate about us creating a lilac Brilliant Eye Brightener shade. And so for me, I was like, Oh, my gosh, we have to name like every time I would post on social media, she was responding and then she would even send me pictures of flowers that she thought should inform what that ultimate shade would be.
The lipstick that I have on is our new impactful lipstick named Nicole, who is one of our most incredible customers. She would literally give you the shirt off her back. I mean, she's just the most. servant leader in the world. She lives out in New York and basically hosts like Thrive Cosmetics parties at her bank that she works out with her coworkers.
I'm not kidding when I say Nicole's probably sold like 10, 000 products. And she's a banker. She's your everyday amazing woman who's just trying to make it through the day. She has a private social media account, but she's so passionate about what we're doing. She goes to charity events with me and giving events and donates her time, flies across the country to come to different events with me and our team.
And I think that that's the power of really connecting with humans is that you get to meet such special people who will change your life. Life like Nicole has changed mine. 
[00:46:29] Hala Taha: It is so cool that you are so close to your customers. I've never really met another entrepreneur as successful as you that's saying like, Hey, I still text my customers when I'm trying to figure out a name.
I'm hanging out and having customer 
[00:46:40] Karissa Bodnar: parties. We have a hype playlist. Oh yeah. No, like I'm texting them like, Hey, this is our hype song of the day. Like, yeah, I'm obsessed with our customers. They probably wish I would like, if I meet a customer out in the wild, like, which is in real life. If I'm wearing a Thrive hat or a t shirt because I'm basically a Thrive billboard everywhere that I go, not because people don't know who I am, but they see the logo and they're like, Oh my gosh, I love that lipstick.
And when they say that to me, I'm like, Oh my gosh, can I have a photo with you? And I don't, I don't introduce myself as the founder and CEO because it's like, I don't know. I feel weird. I just feel weird. So, but I guess I feel it's more normal to ask for a selfie with them. And so I'm so blessed to meet our customers.
And that's actually. I really want to start doing more community events in our office. We're, we're starting to do them more and more, but that's something I really missed during the pandemic. I love our customers. 
[00:47:32] Hala Taha: Yeah. And it's so awesome that from the start, you decided to leverage Shopify for your DTC site because had you used a platform like Etsy or Amazon, you wouldn't really have direct access to your customer or customer data, right?
So you're able to get their names or emails, information, and then be able to communicate back with them. Whereas if you chose a different platform. You would only really get to communicate with them on social media. Yeah, totally. So let's talk about the fact that so many women are now joining this movement of entrepreneurship, more and more women.
You're a successful female entrepreneur. I'm another one. Anybody who's tuning in that's female right now should feel pretty inspired to be hearing this conversation. So why do you think that over half of the businesses on Shopify now are women owned? What do you think is inspiring all these 
[00:48:23] Karissa Bodnar: women? Oh my gosh, there has never been a better time to be a woman in business.
And like I was saying, I stand on the shoulders of giants of women who have come before me. And I think it really is this evolution as a society where. Women are realizing their power more and more, and I think that Shopify is such a great asset for anyone, whether you're a woman or whoever you are, to be able to create something quickly from a website perspective.
It's like I have, I mean, I'm friends with this amazing young woman named Ava who started Ava's Pet Palace and it's this amazing pet food company and I think she's 14 or 15 years old right now. I think about this other entrepreneur who I love named Temple who started STEM Girl Swag and we say we're STEM sisters together.
But I mean, it's just like at the White House. I mean, I'm just like Maya, who is the namesake behind one of our lipsticks. She started as an entrepreneur probably the same year as you did when you're four years old. And because of the Internet and tools like Shopify, someone like Ava is able to create something so quickly.
Maya is able to create a movement. She's my ideas on Instagram. I mean, it's just it's amazing. I love meeting women of all ages. I also have to give a shout out to train with Joan. I'm obsessed with train with Joan. If you don't follow her on Instagram, she is such an inspiration. She did not work out until she was in her seventies.
I always have said that you're never too young and you're never too old to be who you always wanted to be. So whether you're Ava from Ava's Pet Palace or train with Joan, I love seeing these women entrepreneurs just crushing it at all ages. 
[00:50:05] Hala Taha: My gosh, I always say that too. So cool. You are so inspiring.
You're such a role model. I'm going to end the show with two quotes that I think are going to be really meaningful. In the past, you said you don't have to go to Harvard to be able to build a large company or do anything in life. So my question to you is, what do you want to say right now to all the young folks tuning in?
Who want to be entrepreneurs, who didn't go to Ivy League schools, who didn't grow up rich or privileged or in a city, and they have an idea they want to bring to the world. What do you want to tell them? 
[00:50:36] Karissa Bodnar: Ask for help and believe in yourself because people are so generous with their time. I mean, the fact that someone like me who went to Bellevue Community College in Washington State.
And didn't have the best GPA was able to get someone like Robin Roberts, who's an icon at Good Morning America to pay attention to me is a testament to how gracious people are. And if you ask for help, not everybody is going to respond to you. I was sending out 30 emails and getting one response. I was going on LinkedIn when they didn't respond to my emails.
I was Googling things. If you are tenacious in your pursuit, you will find that person that believes in you. And I, I really want to underscore that it doesn't matter where you come from. You can be anything you want to be if you're willing to put in the work. You show kindness to others. You do little things like write thank you cards, handwritten cards to people and show them that they've made an impact on you and you're not going to be perfect.
I've made so many mistakes. I've burned bridges that I wish I wouldn't have. I've said things I shouldn't have said, but if you keep showing up, this is a quote from Brad Stolberg, it's consistency compounds. So just keep showing up, keep asking for help because you can absolutely do it and it doesn't matter how young you are and it doesn't matter how old you are, it's never too late and it's never too early.
[00:51:59] Hala Taha: I love that, that's beautiful. One last quote, I read that you had Ralph Waldo Emerson, a quote from him, framed in your room when you were a little girl, and it read, to know even one life has breathed easier because you have lived. This is to have succeeded. Talk to us about that and how that inspires you.
[00:52:16] Karissa Bodnar: Oh, you're gonna make me cry. You know, I think that I always like to talk about the individual lives that we have changed. I think about people like Nolly. Or Rowan, or Nicole, or Jessica, all of these people who've changed my life just as much as we have maybe impacted their lives. And it's really about the Jessicas of the world.
It's really about the Nicoles of the world. It's really about the islands. That's what makes life special. The 135 million donated matters for sure. That adds up to massive millions of lives changed from our donations and our Bigger Than Beauty program. And ultimately, I come back to the individuals and it's the individual lives that have been changed like Ailyn has changed my life or like Jessica has changed my life.
It's the bracelet that Nicole sent me that said, keep going. And to me, it's about those individual relationships. So much more than these big grandiose numbers, because I used to sit in my apartment and when I would see that Tom's was donating a million shoes, I was like, gosh, like, how am I ever going to be able to do that because I'm shipping products out of my apartment and we had maybe donated, you know, 1000 products at that time.
And so I'd get discouraged. And so that's why I always really like to talk about, one, I genuinely love the humans that I get to talk about, uh, that we may have donated products to or who are a part of our community. But, you know, they've changed my life just as much as I have changed theirs. It really is like it's about one life at a time and we always have an opportunity to show up and be the change that we want to be in the world.
And I've had so many people, our internal team at Thrive Cosmetics and people who like Robin Roberts who really have lived that quote to have made my life be easier because they have lived that I just am really grateful. 
[00:54:02] Hala Taha: So beautiful. And so I end my show with two questions that I ask all my guests.
The first one is, what is one piece of actionable advice that you can give our young and profiters today so they can become more profitable tomorrow? 
[00:54:15] Karissa Bodnar: Pay attention to your P& L, learn your P& L, Google what is a P& L, what is EBITDA. Every time you don't know a term on your P& L, finance people oftentimes will make it more complicated than what it needs to be.
And one of my favorite quotes is, What would it look like if it were easy and so many of the things on a PNL are Googleable and I don't even did I? Is that a word? But yeah, like literally you can Google what these different things mean. And it doesn't mean you're dumb that you don't know it, but you do have to learn it, lean in and do the work to learn or else you are going to get yourself in a situation where you're not profitable, which, you know, to me, profitability equals freedom.
And that's what I want for all entrepreneurs. And I'm really grateful that we are a profitable company because we get to do business on our own terms. If I wake up one day and say, Yes, I want to donate another 100, 000 to this scholarship fund. I get to do that because I have the freedom and flexibility, but it starts with knowing your numbers and the P& L profit and loss.
Just Google it. Everything you don't know, you'll learn it. 
[00:55:25] Hala Taha: And this is so important to say because so much of us entrepreneurs, we didn't start out as finance people. We had a great idea. We had tenacity. We just went after it. Then at a certain point, you got to look at your numbers and make sure everything is all straight.
[00:55:37] Karissa Bodnar: Yeah. And honestly, it's not something that I'm super passionate about. I'll be honest, like sales and profitability don't like drive me. It's spreadsheets are not my favorite thing, but it's a necessity. And so I used to walk around the first few years of Thrive Cosmetics and say, I'm not a finance person.
I'm not a finance person. And so that actually really allowed others who were in financial positions to exploit me. And, you know, I don't say that to speak ill of anybody, but My imposter syndrome around what I did and didn't know about finance, I, you know, I got taken advantage of by people. I mean, I had finance people who even were double paying themselves out of out of my company because I wasn't looking at things.
And so I learned that really early on before I was even paying myself, which was a great lesson. But again, I've had people in my life who have helped me see around corners, but I had to. I mean, I think about Blythe Jack, who's one of my mentors. We named an infinity waterproof eye shadow stick after her, and she was like, You have to know your numbers, I'm going to teach you how to read a P& L, but I also had to Google a lot of that stuff too.
[00:56:38] Hala Taha: And my last question to you, Carissa, is what is your secret to profiting in life? And this can go beyond business, can go beyond the topic of today's episode. 
[00:56:47] Karissa Bodnar: To me, profiting in life is feeling joy and feeling joy deeply. I show up every day, I get to do this. This is a choice that I do every day. I actually don't have to work.
And I feel really privileged to say that and I recognize there are so many people that are not in that position, but I show up every single day with joy because of the purpose I have in the work that I do, whether it's creating an amazing formula, seeing our team members grow and get promotions and overcome challenges like I am so obsessed with watching our teams go through conflict and then move beyond that magic happens there.
And so I, when you're feeling a little bit scared or you're feeling uncomfortable, to me, profiting in life is going towards that discomfort so that you can feel the joy that's on the other side, the accomplishment that you feel on the other side. It's connection. It's community. I didn't spend enough time developing friendships in my twenties.
I was working 24 seven. And so now having friends, uh, is, is, is profiting to me and friends who were there for the right reason. And you will figure it out. You know, I've definitely had challenges with that as the company has grown. You know, I still think of myself as a girl in apartment in an apartment with a dream.
But as success comes, you will have people who try and take advantage of that. So to me, profiting is having that inner joy and that peace because through all of those challenges and all the daggers that people might try to throw at you, you will emerge stronger and you will feel joyful. I love that.
[00:58:21] Hala Taha: Carissa, where can everybody learn more about you and everything you do and about Thrive Cosmetics? Hit Instagram, 
[00:58:28] Karissa Bodnar: people. I'm Carissa Bodner. I, my name is kind of hard to spell, but it's K A R I S S A. B O D N A R. We also, of course, are ThriveCosmetics. com. Amazing. 
[00:58:39] Hala Taha: I'll stick all those links in the show notes.
I loved having this conversation with you. I hope we keep in touch. Thank you so much. 
[00:58:45] Karissa Bodnar: Thank you!
[00:58:46] Hala Taha: You know, young Improfiters, I am feeling so inspired after my conversation with Carissa. So many things she said really hit home for me. First of all, I loved how she talked about the jolt in confidence that cosmetics gave her as an insecure young person. Whether it's a good lipstick or a good workout, sometimes all we need is that external X factor to help us feel confident and hold our chins high.
And when we do feel confident, like Carissa says, we're truly unstoppable. She also talked about one of her big mantras, which is scarcity drives focus. I believe that constraints can be the best driver of creativity. Sometimes a good challenge is exactly what you need to improve yourself and your business.
Another thing that helped give Carissa the confidence and focus she needed to start a DTC business was having the right tools. As she built her business one customer and one relationship at a time, tools like Shopify gave her an easy plug and play solution to help her build her initial sales channels so she could focus her scarce time on the things that really mattered like creating amazing products and attracting new customers.
And speaking of customers, one of the things that matters so much to Carissa is her community. And I absolutely love the fact that she is so collaborative with her customers. She is so deeply engaged with them and she asks them for feedback all the time. She even names her products after some of her best customers.
I mean, who else does that? And I really hope she does name that lip gloss after me. That would be absolutely amazing. Thanks for listening to this episode of Young and Profiting podcast. If you listened, learned, and profited from this conversation with the inspiring Karissa Bodnar, please share this episode with your friends and family.
It would mean a lot to us if you help spread this podcast by word of mouth. And if you did enjoy this show and you learned something new, drop us a five star review on Apple Podcast. We have over 4, 500 reviews because we have incredible listeners like you who support the show. We never charge, we never have subscriptions.
We do this all for you guys and that's the number one way to thank us, writing us a review. You can also find me on Instagram at YapWithHala or LinkedIn by searching my name, it's Hala Taha. And before we wrap, I do want to give a big shout out to my awesome Yap team. You guys are amazing. Thank you so much for all your hard work behind the scenes.
This is your host, Hala Taha, aka the podcast princess, signing off.
Episode Transcription
Enter your name and email address below and I'll send you periodic updates about the podcast.