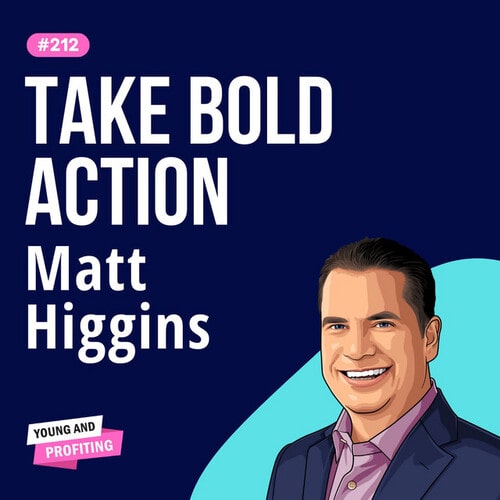 Matt Higgins: Burn the Boats, Refuse to Die. Legendary Shark Makes the Case for No Plan B | E212
Matt Higgins: Burn the Boats, Refuse to Die. Legendary Shark Makes the Case for No Plan B | E212
Matt Higgins spent most of his teenage years taking care of his single mother and scraping gum off of tables at Mcdonald's. After he dropped out of high school at age 16, he graduated from Fordham Law School and became the youngest press secretary in New York City history during the September 11th attacks. Matt created an entrepreneurial career that has now spanned multiple industries. In today's episode, Matt comes back on YAP to discuss his brand new book Burn the Boats and his winning formula to stop hedging and embark on a lifelong journey of breakout success!
Matt Higgins is an Executive Fellow and teacher at Harvard Business School, and, through RSE Ventures, the private investment firm he co-founded, an investor in some of America's most beloved brands. He was a Guest Shark on ABC's Shark Tank, and became the youngest press secretary in New York City history during the September 11th attacks. He then helped lead the effort to rebuild the World Trade Center site as Chief Operating Officer before becoming Executive Vice President of the New York Jets and then Vice Chairman of the Miami Dolphins.
In this episode, Hala and Matt will discuss:
– Why Burn the Boats is Matt's most important project
– How "familiarity breeds contempt"
– Why your Plan B should be eliminated
– Compound decision-making
– Cultivating your own belief in yourself
– Ralph Waldo Emerson's "Self-reliance"
– Why Matt brought Kim Kardashian to Harvard
– Who is cut out for being an entrepreneur
– Harnessing the power of Linkedin
– And other topics…
Matt Higgins is a self-made serial entrepreneur with deep operating experience that spans multiple industries over his twenty-five-year career. Higgins holds dual roles as co-founder and CEO of the private investment firm RSE Ventures. His business-building acumen also earned him a spot as a recurring guest Shark on ABC's Shark Tank during seasons ten and eleven. He is a prolific investor in the direct-to-consumer space and leveraged this expertise to become an executive fellow at Harvard Business School, where he coteaches the course "Moving Beyond DTC."
A lifelong New Yorker, Higgins was appointed press secretary for the New York City mayor's office at age twenty-six—the youngest in history—managing the global media response during the 9/11 terrorist attacks before ultimately becoming chief operating officer of the Lower Manhattan Development Corporation. After transitioning to the private sector, he spent fifteen years in senior leadership positions with two National Football League teams, starting as EVP of business operations for the New York Jets before serving as vice chairman of the Miami Dolphins for nearly a decade.
LinkedIn Secrets Masterclass, Have Job Security For Life: Use code 'podcast' for 40% off at
yapmedia.io/course
More About Young and Profiting