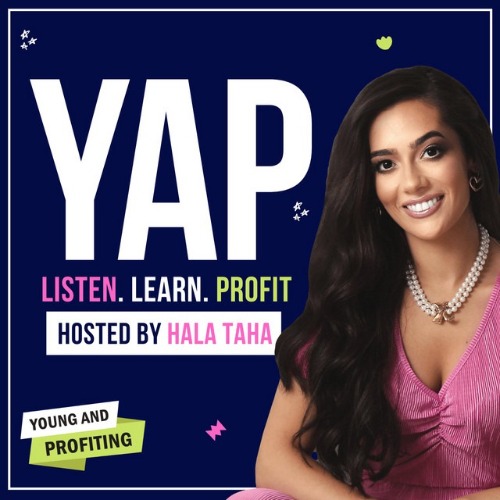 Replay: Hala on Good Money with Derrick Kinney
Replay: Hala on Good Money with Derrick Kinney
Are you curious about starting a side hustle? Side hustles are ways to earn extra income in addition to your full-time job, and if done correctly, you can turn your side hustle into a successful career. This is how Hala Taha became a #1 podcaster and the CEO of YAP Media. 
Hala was working full-time at Disney when she started Young and Profiting as a side hustle. Through sacrifice, managing and maximizing her time, and hard work, Hala grew her side hustle into a multimillion-dollar business, became a #1 podcaster, and thriving entrepreneur. 
In this episode of Good Money with Derrick Kinney, Derrick talks to Hala about how she scaled and grew her business from side hustle to a multimillion-dollar company with over 60 employees, how to monetize a side hustle, how to maximize every minute of the day, the sacrifices necessary for success, how money can be used for good, and everything she's learned along the way. 
Topics Include:
– The start of the Young and Profiting podcast
– Humility and the importance of showing potential
– Advice on starting a side hustle 
– Monetizing a side hustle
– How Hala managed and maximized her time 
– The importance of goals
– How Hala ran her side hustle like a job 
– The sacrifices necessary for success
– When Hala knew it was time to focus on her side hustle full-time
– How she built and motivated her team
– Using money for good 
– Taking the risk and following your dreams
– And other topics…
Hala Taha is the host of Young and Profiting Podcast, frequently ranked as a #1 Education podcast across all apps. Hala is also the CEO of YAP Media, a full-service social media and podcast marketing agency for top podcasters, celebrities and CEOs. She is well-known for her engaged following and influence on Linkedin, and she landed the January 2021 cover of Podcast Magazine.
Derrick Kinney is the CEO of Good Money Framework, and the host of Good Money Podcast. He has been named a Best-In-State Financial Advisor by Forbes Magazine. Derrick is often featured in the Wall Street Journal, CNBC, Fox News, Money Magazine, and primetime shows.
Derrick is the author of Good Money Revolution: How to Make More Money to Do More Good. 
Sponsored By:
Grin.co – Find out how GRIN can help you grow your brand. Watch the demo at GRIN.co
Express VPN – Visit my exclusive link ExpressVPN.com/yap and get an extra 3 months FREE on a one-year package.
Hello Fresh – Go to HelloFresh.com/yap16 and use code YAP16 for up to 16 free meals and 3 free gifts
Native – Go to Nativedeo.com/yap or use promo code YAP at checkout, and get 20% off your first order.
Decision Analyst – Sign up for free today at acop.com/yap and begin your next side-hustle
99 Designs – Head to 99designs.com/YAP to learn more and get $30 off your first design contest!
Connect With Derrick Kinney:
Good Money Revolution by Derrick Kinney: https://amzn.to/3rZhVeq
Good Money Podcast: https://www.goodmoneyframework.com/podcast 
Derrick's Website: https://www.goodmoneyframework.com/ 
Instagram: https://www.instagram.com/derricktkinney/ 
Twitter: https://twitter.com/derricktkinney 
Facebook: https://www.facebook.com/derricktkinney 
LinkedIn: https://www.linkedin.com/in/derrickkinney/ 
Resources Mentioned:
Good Money with Derrick Kinney: Hala Taha—How to Create a Thriving Side Hustle Without Quitting Your Job: https://podcasts.apple.com/us/podcast/hala-taha-how-to-create-a-thriving-side-hustle/id1531522259?i=1000551005519 
#YAPLive: Good Money Revolution with Derrick Kinney: https://www.youngandprofiting.com/yaplive-good-money-revolution-with-derrick-kinney/ 
Connect with Young and Profiting:
YAP's Instagram: https://www.instagram.com/youngandprofiting/    
Hala's Linkedin: https://www.linkedin.com/in/htaha/    
Hala's Instagram:https://www.instagram.com/yapwithhala/    
Clubhouse: https://www.clubhouse.com/@halataha  
Website: https://www.youngandprofiting.com/