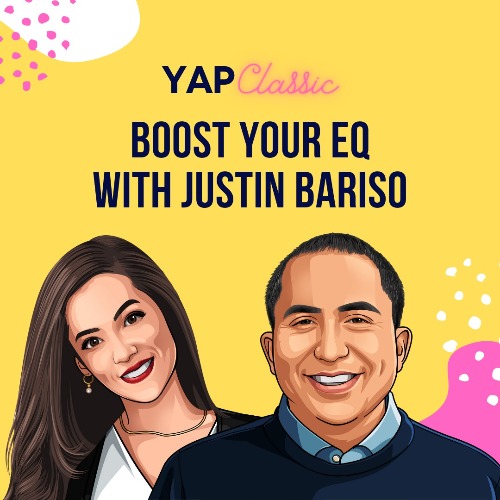 YAPClassic: Justin Bariso on Boosting Your EQ
YAPClassic: Justin Bariso on Boosting Your EQ
On this YAPClassic we are revisiting episode #40: Boost Your EQ with Justin Bariso! 
Are you ready to take your EQ to the next level? 
Justin Bariso is an Emotional Intelligence (EQ) expert, author, and speaker. Justin's column draws over a million readers a month on INC.com, and LinkedIn has named him a "Top Voice" on the platform. When this episode aired, Justin released his book, "EP Applied: The Real World Guide to Emotional Intelligence" which shares practical ways to increase EQ to improve relationships and careers. In this episode, Hala and Justin discuss why EQ is action-oriented, how our brain's emotional programming makes self-control so difficult, and why negative feedback is truly a blessing!
Sponsored by – 
AthleticGreens – Visit athleticgreens.com/YAP and get FREE 1 year supply of immune-supporting Vitamin D AND 5 FREE travel packs with your first purchase.
Lendtable – Sign up for Lendtable at Lendtable.com with promo code YAP for an extra $50 added to your Lendtable balance.
Shopify – Go to shopify.com/profiting, for a FREE fourteen-day trial and get full access to Shopify's entire suite of features.
Jordan Harbinger – Check out jordanharbinger.com/start for some episode recommendations.
Social Media:
Follow YAP on IG: www.instagram.com/youngandprofiting
Reach out to Hala directly at [email protected]
Follow Hala on Linkedin: www.linkedin.com/in/htaha/
Follow Hala on Instagram: www.instagram.com/yapwithhala
Follow Hala on Clubhouse: @halataha
Check out our website to meet the team, view show notes and transcripts: www.youngandprofiting.com