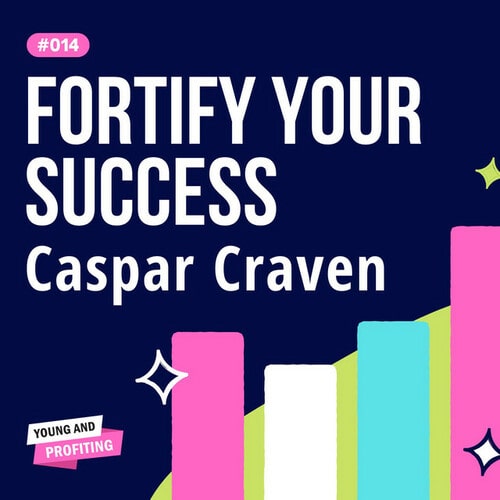 YAPClassic: Caspar Craven on Fortifying Your Success and Traveling The World
YAPClassic: Caspar Craven on Fortifying Your Success and Traveling The World
How many times have you set a goal for yourself that you didn't follow through on? How many ideas are swirling around in your head, waiting to be brought to life?
Too often, we keep our goals trapped inside our minds. We have a vivid image of what we want, but because we don't know how to get there, we don't try.
Casper Craven came onto YAP to talk about how to set massive goals for ourselves and follow through with them. Caspar has sailed around the world twice, so he is well-versed in turning the impossible into the possible. He has also built several million-dollar companies and delivers keynotes on motivation, goal setting, work/life balance, mental health, and resilience.
In this episode of #YAPClassic, Hala and Caspar talk about how to hold yourself accountable for achieving your goals. He gave tips on how to handle criticism constructively and why deadlines are crucial when starting ambitious new projects. He also revealed one of his best memories from his journey with his family, some of the challenges they ran into, and how they overcame them. Finally, he told Hala about how to build meaningful core values both in your company and in your home.
– Caspar's life before setting sail around the world
– How did he and his wife save their marriage?
– Why deadlines are always necessary
– Making your goals public
– Using business values in family life
– Building meaningful company values
– Caspar's best memories from sailing around the world
– Channeling family values amid crises
– Developing emotional resilience
Casper Craven is a serial entrepreneur and motivational and teamwork keynote speaker. He is a leading authority in achieving bold goals and a passionate advocate of high-performance teamwork. He became an entrepreneur at 14 years old, catching crabs and lobsters. By 16, he was shipping out half a ton of crabs every week. Since then, he has built and led teams of all sizes. He spent more than 10 years in Professional Services, including five years at KPMG Corporate Finance. During his five years of travel preparation, he built three $1 million businesses – one of which he sold for a seven-figure sum while sailing across the Pacific Ocean.
He has sailed around the world twice, the first time on a trophy-winning race yacht and the second with his wife and three children, who were all under the age of ten at the time. He wrote his first book, Where The Magic Happens, about the process of planning and executing his family's global adventure.
Connect with Young and Profiting: