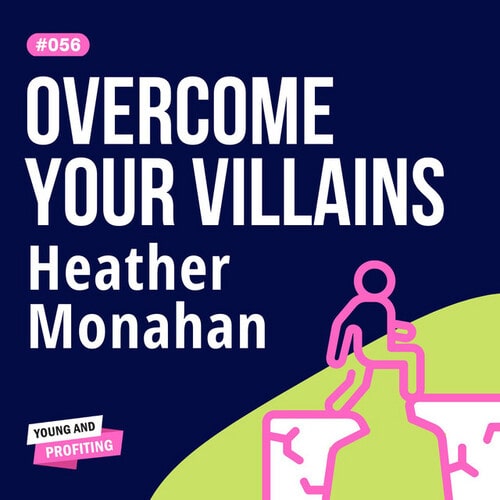 YAPClassic: Heather Monahan on Creating Confidence
YAPClassic: Heather Monahan on Creating Confidence
When Heather Monahan worked in corporate, she helped her company grow from 100 million in revenue to an excess of 200 million. She rose through the ranks, serving as the VP of Sales, EVP, and eventually Chief Revenue Officer. Despite her tireless efforts, she was fired as soon as a new CEO stepped in. Rather than wallowing in her defeat, she self-published her first bestselling book and became one of the Top Keynote Speakers in the World in 2022. In this episode, you'll learn about how being a people pleaser makes you less confident, tips for handling rejection, and what you can do to challenge your limiting beliefs.
Heather was named one of the Top 40 Female Keynote Speakers in 2020 and Top 50 Keynote Speakers for 2022 by Real Leaders. Her TEDx talk was promoted to TED and translated into 6 languages. Harper Collins Leadership published her new book Overcome Your Villains in November 2021. Heather has been featured in USA Today, CNN, Forbes, Fast Company, Gary V's Audio Experience, and The Steve Harvey Show.
In this episode, Hala and Heather will discuss:
– How Heather became a renowned speaker
– Micro challenge, macro opportunity
– Asserting your dominance against negative people
– Confidence vs. insecurity
– How journaling helps Heather track her growth
– Don't be afraid to ask for what you want
– How can you challenge your limiting beliefs?
– Conducting an audit of your social circle
– Don't apologize for existing
Heather Monahan is a best-selling author X2, Top 50 Keynote Speaker in the World 2022, Podcast Host of Creating Confidence, TEDX speaker, and has most recently been appointed to the Board of Directors of Healthlynked Corp. As a Chief Revenue Officer in Media, Heather Monahan is a Glass Ceiling Award winner, named one of the most Influential Women in Radio in 2017, Thrive Global named her a Limit Breaking Female Founder in 2018, and in 2021 Girls Club named her the Thought Leader of the Year.
Heather's show, Creating Confidence, debuted on the Top 200 shows on Apple Podcasts. Her guests include Sara Blakely, Gary Vaynerchuck, Ryan Serhant, and Kaitlyn Bristowe, among many other noteworthy celebrities and entrepreneurs. Heather and her son Dylan reside in Miami.
LinkedIn Secrets Masterclass, Have Job Security For Life: Use code 'podcast' for 40% off at
yapmedia.io/course
More About Young and Profiting