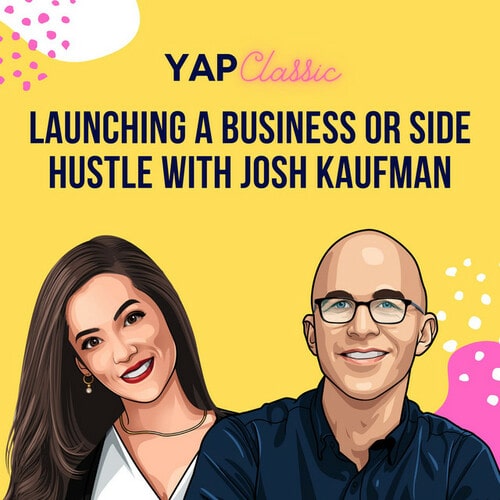 #YAPClassic: Launching a Business or Side Hustle with Josh Kaufman
#YAPClassic: Launching a Business or Side Hustle with Josh Kaufman
Do you want to start a business, but aren't sure how? When it comes to launching a business or starting a side hustle, understanding markets, sales, negotiation, operations, and more, is crucial. Bestselling author and speaker, Josh Kaufman, is here to give you a masterclass in the fundamentals of business. Today's business system is complex, but Josh breaks it down so you can get your business running and profiting faster! In this episode, Hala and Josh chat about the ten ways to identify a viable market, the five parts to every business, how to test your idea before launch, how to set pricing, when giving a discount is a good idea, and they share sales tips and tricks.  
Topics Include: 
– How his college degree helped shaped his career
– Why he wrote The Personal MBA 
– How to find a viable market
– The five parts of every business 
– 10 ways to evaluate a market 
– Characteristics of good products or services 
– Exceptional product or service in the pandemic 
– How to test your idea before launch
– The steps to decide pricing 
– The best way to create high-ticket offers and elements
– Objections to anticipate and how to counteract 
– When to use discounting
– And other topics…
Josh Kaufman is the author of three bestselling books: The Personal MBA: Master the Art of Business, The First 20 Hours: How to Learn Anything… Fast!, and How to Fight a Hydra: Face Your Fears, Pursue Your Ambitions, and Become the Hero You Are Destined to Be. Josh has been featured as the #1 bestselling author in Business & Money, as ranked by Amazon.com, and his books have sold over a million copies worldwide. 
Josh's TEDx talk on The First 20 Hours is one of the top 25 most-viewed TED talks published to date, with over 30 million views on YouTube.
Josh's research focuses on business, entrepreneurship, skill acquisition, productivity, creativity, applied psychology, and practical wisdom. His multidisciplinary approach to business mastery and rapid skill acquisition has helped millions of people around the world learn essential concepts and skills on their terms.
Josh's research has been featured by The New York Times, The BBC, The Wall Street Journal, The Atlantic, Fortune, Forbes, Time, BusinessWeek, and Wired, among many others. 
Sponsored By:
Jordan Harbinger – Check out jordanharbinger.com/start for some episode recommendations
Wise – Join 13 million people and businesses who are already saving, and try Wise for free at Wise.com/yap
First Person – Go to getfirstperson.com and use code YAP to get 15% off your first order
LinkedIn Marketing Solutions – LinkedIn is offering a $100 credit on your next campaign. Go to LinkedIn.com/YAP to claim your credit
ClickUp – Sign up today at ClickUp.com and use codeUse code YAP to get 15% off ClickUp's massive Unlimited Plan for a year!
Resources Mentioned:
YAP Episode #106: Launching a Business or Side Hustle with Josh Kaufman: https://www.youngandprofiting.com/106-launching-a-business-or-side-hustle-with-josh-kaufman/ 
YAP Episode #107: How to Learn a New Skill in 20 Hours with Josh Kaufman: https://www.youngandprofiting.com/107-how-to-learn-a-new-skill-in-20-hours-with-josh-kaufman/ 
Josh's Website: https://joshkaufman.net/ 
Josh's Books: https://joshkaufman.net/books/
Josh's Tedx Talk: https://www.youtube.com/watch?v=5MgBikgcWnY  
Josh's Twitter: https://twitter.com/joshkaufman 
Connect with Young and Profiting:
Hala's LinkedIn: https://www.linkedin.com/in/htaha/    
Hala's Instagram: https://www.instagram.com/yapwithhala/    
Hala's Twitter: https://twitter.com/yapwithhala 
Clubhouse: https://www.clubhouse.com/@halataha  
Website: https://www.youngandprofiting.com/ 
Text Hala: https://youngandprofiting.co/TextHala or text "YAP" to 28046
Learn more about your ad choices. Visit https://megaphone.fm/adchoices