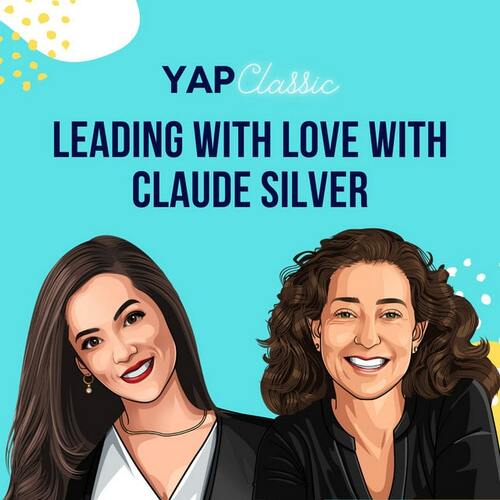 #YAPClassic: Leading With Love with Claude Silver
#YAPClassic: Leading With Love with Claude Silver
The average American spends one third of their life at work. Beyond finances and benefits, jobs have an incredible impact on our lives, and the way we feel about our jobs has a huge impact on our work performance. So, Claude Silver, the world's first Chief Heart Officer at VaynerMedia, sees the need for humanity, emotional intelligence, equity, and diversity in the workplace. That means that company culture, communication, and connection must be priorities in the office. If employees feel like they belong and have support, the entire company, along with the individual, benefits. In this #YAPClassic, Hala and Claude chat about Claude's career at VaynerMedia and her role as Chief Heart Officer, what Claude means by 'building a honey empire,' her perspective on diversity and inclusion, and Claude shares advice for millenials looking to succeed at work.  
Topics Include:
– What does a Chief Heart Officer do?
– How is Chief Heart Officer different than a traditional CHRO?
– Is the concept of Chief Heart officer taking off? 
– Claude's career at VaynerMedia, why she quit and why she went back  
– Advice on foster meaningful relationships with senior leaders
– How Claude connects with all 800 people at VaynerMedia
– How does keeping employees happy affect productivity?  
– Time management and energy management 
– What does building the honey empire mean? 
– Girls Adventure Out and how that helps in her current role
– Her 90 day journey in the wilderness 
– Sexual orientation and the importance of authenticity 
– Her experience with Dyslexia and why she credits it for her success
– How they onboard employees at VanyerMedia  
– Community resource groups 
– How to manage an employee who are underperforming
– Claude's perspective on diversity and inclusion 
– Millennials and Gen Z thinking differently about DNI
– Why cognitive bias training is important 
– Advice for millennials looking to succeed at work 
– And other topics…
Claude Silver is the first ever Chief Heart Officer at VaynerMedia. Prior to joining VaynerMedia, she held senior leadership posts at both J. Walter Thompson and Publicis in each firm's London office. 
Claude is also a motivational speaker, thought leader and industry trend setter. She focuses on teaching people and organizations how to disrupt the traditional HR model with emotional optimism and heart-centered leadership. 
Beyond her work in marketing and media, Claude co-founded and served as Managing Director at GirlsAdventureOUT, a women-focused outdoor adventure enterprise. She is also a certified Outward Bound instructor.
Sponsored By:
Jordan Harbinger – Check out jordanharbinger.com/start for some episode recommendations
Constant Contact – To start your free digital marketing trial today, visit constantcontact.com 
Wise – Join 13 million people and businesses who are already saving, and try Wise for free at Wise.com/yap
Indeed – Sign up for Indeed now and get a $75 credit toward your first sponsored job. Plus earn up to $500 extra in sponsored job credits with Indeed's Virtual Interviews. Visit
Indeed.com/PROFITING to learn more
Resources Mentioned:
YAP Episode #35: Leading with Love with Claude Silver: https://www.youngandprofiting.com/35-leading-with-love-with-claude-silver/ 
Claude's Website: https://www.claudesilver.com/ 
Claude's LinkedIn: https://www.linkedin.com/in/casilver/ 
Claude's Instagram: https://www.instagram.com/claudesilver/ 
Claude's Twitter: https://twitter.com/claudesilver?lang=en 
Connect with Young and Profiting:
Hala's LinkedIn: https://www.linkedin.com/in/htaha/    
Hala's Instagram: https://www.instagram.com/yapwithhala/    
Hala's Twitter: https://twitter.com/yapwithhala 
Clubhouse: https://www.clubhouse.com/@halataha  
Website: https://www.youngandprofiting.com/ 
Text Hala: https://youngandprofiting.co/TextHala or text "YAP" to 28046
Learn more about your ad choices. Visit https://megaphone.fm/adchoices