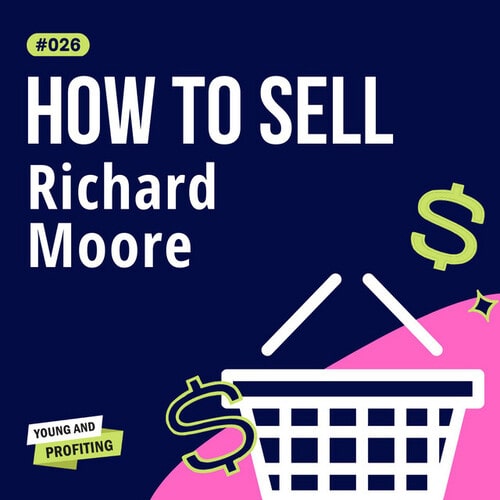 YAPClassic: Richard Moore on The Laws of Selling | Part 1
YAPClassic: Richard Moore on The Laws of Selling | Part 1
Richard Moore's performance in school was not reflective of someone who would eventually achieve massive success. He flunked his high school exams, which forced him to settle for an average university. However, he cultivated a mindset of doing the best he could and fixing whatever stood in the way of what he couldn't do. He then went on to work in corporate, where he made multiple millions in sales. Now, he's a highly sought-after LinkedIn sales and conversion coach for businesses of all sizes. In this episode, you'll learn what makes a great sales pitch, how to build trust with your prospects, how to successfully, cold-call your prospects, and other steps to becoming a master salesperson.
Richard is a sales guru and consultant with over 20 years of experience in online, in-person, and phone-based selling. His clients range from startups to 9-figure businesses, and he's grown a massive influence on platforms like LinkedIn and Instagram. Rich has also been featured in publications like Forbes and The Huffington Post. He travels the world sharing his knowledge on sales and content strategy to help businesses turn leads into clients and close more deals.
In this episode, Hala and Richard will discuss:
– How tragedy breeds new perspectives
– How you can build yourself into a great salesperson
– Don't write out cold-calling just yet
– The ingredients for a great sales pitch
– Turning a meaningful relationship or conversation into a sale
– Don't ignore your lower-paying customers
– Turn them into advocates of your brand
– The biggest pitfalls you need to overcome as a salesperson
– Evaluating the quality of your prospects
– What most people get wrong about their content strategy
Richard Moore is a conversion coach who specializes in helping coaches and consultants convert on LinkedIn from their content. For nearly five years, Richard has successfully helped scores of businesses convert through their content on the platform. Before that, he did the same with Facebook. During his professional career, he has also converted multiple millions in sales from his previous corporate jobs in London.
Richard has taught nine-figure business owners and solopreneurs alike how to sell using LinkedIn through his coaching, courses, and lectures at prestigious institutions like Uni of Edinburgh, Oxford Uni, Pearson Business School, Uni of Warwick, Warwick Business School, EBS Business School, Uni of Nottingham and more.
LinkedIn Secrets Masterclass, Have Job Security For Life: Use code 'podcast' for 30% off at
yapmedia.io/course
More About Young and Profiting