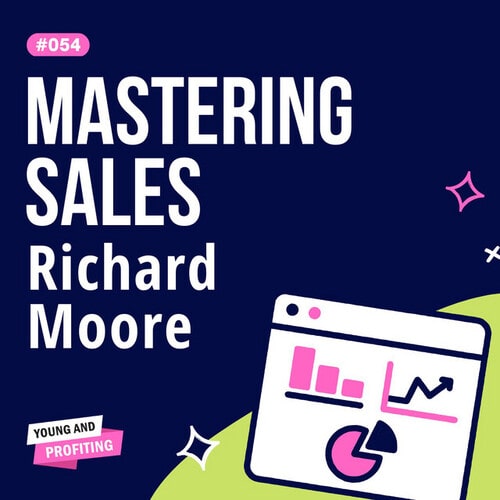 YAPClassic: Richard Moore on The Laws of Selling | Part 2
YAPClassic: Richard Moore on The Laws of Selling | Part 2
When Richard Moore graduated from college, his mom told him that he couldn't go home; he had to get a job. To make ends meet, he landed an entry-level phone-selling job. Now, he's a top sales and conversion expert who has generated millions of dollars in sales between his corporate sales roles, his private coaching services, and his courses. In Part 2 of YAPClassic: The Art of Selling, you'll learn more tried and true sales tactics, like asking your prospects the right questions and learning your prospects' motives for buying. Richard will also break down when to raise your price and when to discount your product.
Richard is a sales guru and consultant with over 20 years of experience in online, in-person, and phone-based selling. His clients range from startups to 9-figure businesses, and he's grown a massive influence on platforms like Linkedin and Instagram. Rich has also been featured in publications like Forbes and The Huffington Post. He travels the world sharing his knowledge on sales and content strategy to help businesses turn leads into clients and close more deals.
In this episode, Hala and Richard will discuss:
– Understanding both the science and artistry of sales
– The three questions you need to answer for your prospects
– The difference between leads and prospects
– Why you should appeal to a prospect's emotional mind first
– Uncovering a prospect's motives for buying
– Are you using an outdated approach to closing deals?
– How to find the right price for your product
– A boring product isn't an excuse for bad salesmanship
– And other topics…
Richard Moore is a conversion coach who specializes in helping coaches and consultants convert on LinkedIn from their content. For nearly five years, Richard has successfully helped scores of businesses convert through their content on the platform. Before that, he did the same with Facebook. During his professional career, he has also converted multiple millions in sales from his previous corporate jobs in London.
Richard has taught nine-figure business owners and solopreneurs alike how to sell using LinkedIn through his coaching, courses, and lectures at prestigious institutions like Uni of Edinburgh, Oxford Uni, Pearson Business School, Uni of Warwick, Warwick Business School, EBS Business School, Uni of Nottingham and more.
LinkedIn Secrets Masterclass, Have Job Security For Life: Use code 'masterclass' for 25% off at
yapmedia.io/course
LMNT – Get a free LMNT Sample Pack with any order only when you order through
DrinkLMNT.com/YAP
More About Young and Profiting