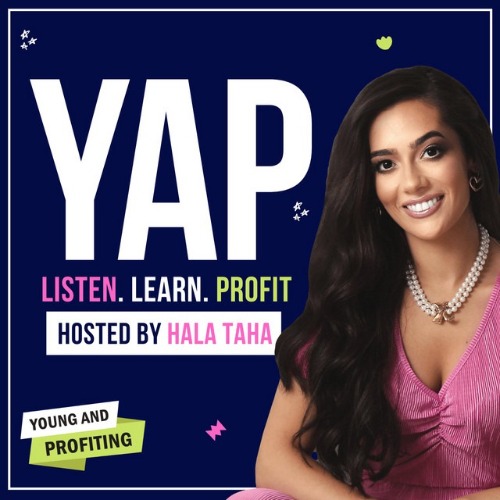 YAPLive 2021 Podcast Winter Ball with Hala Taha and Jordan Harbinger on Clubhouse | Uncut Version
YAPLive 2021 Podcast Winter Ball with Hala Taha and Jordan Harbinger on Clubhouse | Uncut Version
Join Hala and Jordan for The Podcast Winter Ball presented by Stitcher in Clubpod!
We will have expert panelists and ClubPod leaders who will discuss topics like, Podcaster Etiquette Do's and Don'ts, Show Me The Money, Baby!, Dude, Where's My Analytics?, and So…That's How You Grow A Show!
This fun holiday party will include several "Pitch Your Podcast" contests with a chance for 3 lucky winners to be featured in the Stitcher app!
*** Meet the Panel ***
Jordan Mendoza – Entrepreneur, Business Consultant, and Podcast Host of the "Blaze Your Own Trail Podcast"
Jason Feifer – Editor in chief of Entrepreneur magazine, and host of the podcast Build For Tomorrow
Dimple Dang – Online Marketing Expert | Legal Marketing Expert | Podcast Coach | Host of "Mesmerizing Marketing™ Podcast" a
Robert Tuch(K)man – Entrepreneur and Co-Founder at Amaze Media Labs, Podcast Host, Entrepreneur Magazine's How Success Happens
Mario Armstrong – two time Emmy Award-Winner, Lifestyle Entrepreneur, TV Host, Public Speaker and Motivator
Anthony Savelli – Co-Founder & CRO at Podcast Ad Reps
Steve Olsher – Founder & Editor-In-Chief of Podcast Magazine®, creator of ClubPod™
Chris Krimitsos – Guinness World Record® Holder for the largest attendance for a virtual podcasting conference in one week, and a leading expert on podcasting and on-demand audio.
Bryan Barletta- the voice behind Sounds Profitable podcast, writes the Sounds Profitable newsletter, which is part of the Podnews network.
Shawn Anthony – Host of the School's Over….Now What? Podcast and is the lead mentor at The Now What Academy.
James Cridland – Editor of Podnews and a radio futurologist – a writer, consultant and public speaker on radio's future.
Mark Savant – Host of the After Hours Entrepreneur Podcast and Owner of Mark Savant Media which makes Podcast Production Simple
Adam Posner – Founder of NHP talent group, host of the POZcast
Raven Blair Glover – Raven aka The Talk Show Maven – Former CNN Radio Personality, and Host of The Profitable Podcaster Show
Sponsored By:
Jordan Harbinger – Check out jordanharbinger.com/start for some episode recommendations
Kraken – Visit kraken.com/yap now to learn more or search for "Kraken" in the app store.
Shopify – Go to shopify.com/profiting for a FREE fourteen-day trial and get full access to Shopify's entire suite of features.
AthleticGreens – Visit athleticgreens.com/YAP and get FREE 1 year supply of immune-supporting Vitamin D AND 5 FREE travel packs with your first purchase.
Social Media:
Follow YAP on IG: www.instagram.com/youngandprofiting
Reach out to Hala directly at [email protected]
Follow Hala on Linkedin: www.linkedin.com/in/htaha/
Follow Hala on Instagram: www.instagram.com/yapwithhala
Follow Hala on Clubhouse: @halataha
Check out our website to meet the team, view show notes and transcripts: www.youngandprofiting.com