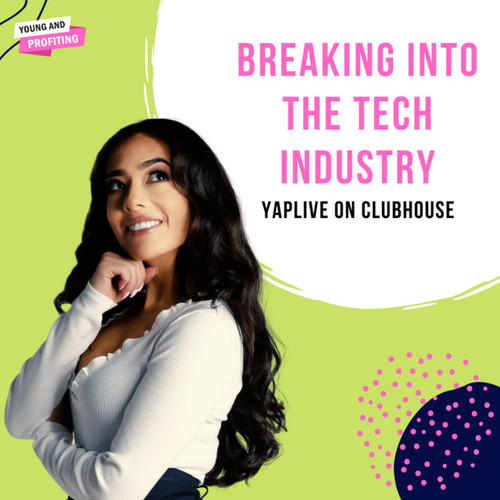 YAPLive: Breaking Into The Tech Industry Career Panel on Clubhouse | Uncut Version
YAPLive: Breaking Into The Tech Industry Career Panel on Clubhouse | Uncut Version
How can you break into the tech industry and land a successful career doing something that you love?
Today on the show Hala is joined by industry experts, top recruiters and career coaches to discuss how you can more effectively land those interviews in the tech field, and how you can blow them away during that interview.
The tech industry has been strong over the last several years: IT unemployment continues to shrink, salaries inch higher each year and innovation continues to create exciting career opportunities. In fact, a recent survey found that 86 percent of businesses have trouble finding tech talent and the gap is only getting bigger and job opportunities projected to grow 11% by 2029.
In this episode, Hala and friends chat about how using your personal brand can speak volumes when trying to break into the industry, and how getting used to industry language and key terms before you're actually in the field can help give you the confidence you need.
The panel also covers how to stand out amongst a sea of resumes, ace your interview and sky rocket your career once you have your foot in the door.
Meet the Panel
Jarrett Albritton (http://linkedin.com/in/jarrettalbritton)
A client-focused sales team leader with a consistent track record of delivering value to clients while meeting measurement targets. Since 2006 Jarrett has closed over $40 million in software and tech deals. www.rockonsuccess.com/3secrets
Christian Bourdeau (https://www.linkedin.com/in/christianbourdeau)
Christian has a goal to help minorities, women, students, and non-tech pros pivot into tech. He works for PlayStation as a senior analytics engineer.
Glaze Martillano (https://www.linkedin.com/in/glazemartillano/)
Glaze is Talent Acquisition at Facebook & Instagram and Career Coach. She is a huge advocate for women in tech and diversity, empowering high-ambitious professionals to align purpose with impact.
Jonathan Javier (https://www.linkedin.com/in/jonathan-wonsulting/)
Jonathan is the CEO and Founder Wonsulting with a mission: to turn underdogs into winners. Jonathan has helped tens of thousands of clients land offers at top companies including Google, Facebook, Amazon, LinkedIn, Cisco, and more
Lauren Berger (www.internqueen.com)
CEO & Founder of both CareerQueen.com and InternQueen.com, reaching over 6 million people and connecting them with their dream careers. Lauren also has a marketing agency that helps leading brands activate brand ambassadors and establish a presence at colleges
Social Media:
Follow YAP on IG: www.instagram.com/youngandprofiting
Reach out to Hala directly at [email protected]
Follow Hala on Linkedin: www.linkedin.com/in/htaha/
Follow Hala on Instagram: www.instagram.com/yapwithhala
Follow Hala on ClubHouse: @halataha
Check out our website to meet the team, view show notes and transcripts: www.youngandprofiting.com