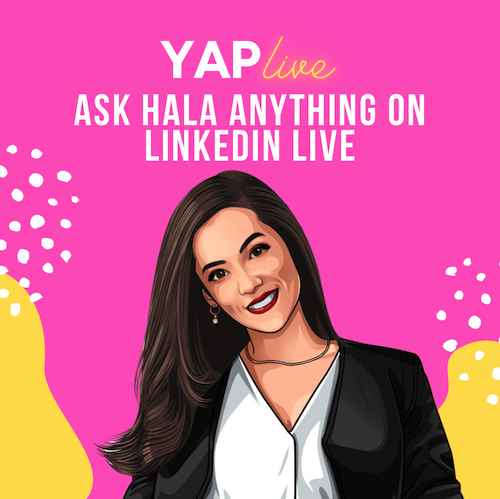 YAPLive: Influence and Negotiation Masterclass Live On Clubhouse with David Meltzer, Heather Monahan, Jayson Waller and Jennifer Cohen | Uncut Version
YAPLive: Influence and Negotiation Masterclass Live On Clubhouse with David Meltzer, Heather Monahan, Jayson Waller and Jennifer Cohen | Uncut Version
In today's episode Hala is hosting a live Clubhouse event, with some of the most prominent leaders in podcasting, business, and negotiation tactics!
Hala is talking with Jennifer Cohen, a fitness personality, author and body image consultant, Heather Monahan, CEO and founder of Boss in Heels, Jayson Waller, CEO and founder of Powerhome Solar, David Meltzer, the co-founder of Sports 1 marketing and former CEO of Leigh Steinburgh Sports & Entertainment Agency, and a special appearance by Alexandra Carter, author and clinical professor of law and director of the Meditation Clinic at Columbia Law School.
They discuss everything from who their biggest inspirations were, how to best launch your podcast, and so much more! You don't want to miss this masterclass in podcasting, negotiation and confidence!
Social Media:
Follow YAP on IG: www.instagram.com/youngandprofiting
Reach out to Hala directly at [email protected]
Follow Hala on Linkedin: www.linkedin.com/in/htaha/
Follow Hala on Instagram: www.instagram.com/yapwithhala
Follow Hala on ClubHouse: @halataha
Check out our website to meet the team, view show notes and transcripts: www.youngandprofiting.com