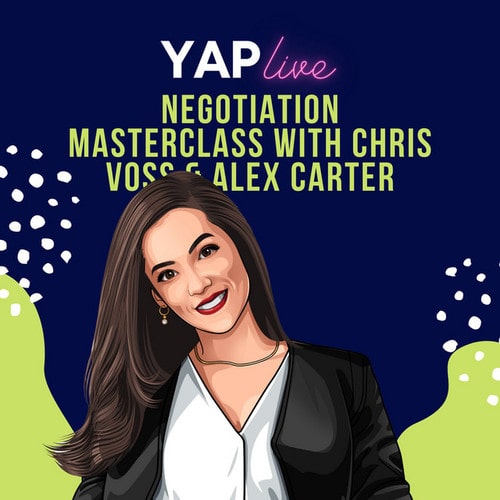 YAPLive: Negotiation Masterclass with Chris Voss and Alex Carter | Cut Version
YAPLive: Negotiation Masterclass with Chris Voss and Alex Carter | Cut Version
We enter into negotiations big and small every day!
Our ability to navigate these negotiations is often the deciding factor in us getting what we want or not getting what we want.
But just the thought of "entering into a negotiation with someone" can be uncomfortable or even intimidating. We picture ourselves stuck in a win/lose scenario that ends with us being a winner or a loser.
My guests today, the legendary Chris Voss and Alex Carter, have a very different view of negotiation. Chris Voss and Alex Carter have spent decades studying human behavior – Chris as an FBI hostage negotiator, and Alex as a negotiation trainer for the United Nations.
In this highlight episode, Chris and Alex reframe negotiation as a skill we can use to achieve the best possible outcome for all parties involved. 
The best part? This skill can be learned, and in today's episode, Chris and Alex share their best practices for becoming a master negotiator.
In this episode Hala will chat with Alex and Chris about the crucial role curiosity plays in negotiation, how to ask the right questions, they'll share real negotiation success stories, and much more! 
Let's meet the guests!
Chris Voss is a former FBI international hostage and kidnapping negotiator. He is the CEO & Founder of The Black Swan Group Ltd, a company that teaches negotiation tactics and leadership training to individuals and companies. Chris is the co-author of the Wall Street Journal best-selling book Never Split the Difference.
Alex Carter is a professor at Columbia Law School and the director of Columbia Law School's Mediation Clinic. In 2019, Alex was awarded the Columbia University Presidential Award for Outstanding Teaching. She is also an internationally renowned keynote speaker and negotiation coach, working with Fortune 500 companies, the United Nations, foreign governments, not-for-profit organizations, and more. Alex is the author of the Wall Street Journal Business bestseller, Ask for More.
Sponsored by – 
Athletic Greens – Visit athleticgreens.com/YAP and get FREE 1 year supply of immune-supporting Vitamin D AND 5 FREE travel packs with your first purchase.
BrandCrowd – Check out brandcrowd.com/yap to learn more, play with the tool for free, and get 73% off your purchase.  
Jordan Harbinger – Check out jordanharbinger.com/start for some episode recommendations
Mint Mobile – To get your new wireless plan for just 15 bucks a month, and get the plan shipped to your door for FREE, go to mintmobile.com/yap 
Native – Go to Nativedeo.com/yap or use promo code YAP at checkout, and get 20% off your first order.
Coinbase – For a limited time, new users can get $10 in free Bitcoin when you sign up today at Coinbase.com/YAP  
Social Media:
Follow YAP on IG: www.instagram.com/youngandprofiting
Reach out to Hala directly at [email protected]
Follow Hala on Linkedin: www.linkedin.com/in/htaha/
Follow Hala on Instagram: www.instagram.com/yapwithhala
Follow Hala on Clubhouse: @halataha
Check out our website to meet the team, view show notes and transcripts: www.youngandprofiting.com
Mentioned In The Episode:
YAP Episode 23: Negotiate Like a Boss with Christopher Voss: https://www.youngandprofiting.com/23-negotiate-like-a-boss-with-christopher-voss/ 
YAP Episode 86: Negotiate Anything with Alexandra Carter: https://www.youngandprofiting.com/86-negotiate-anything-with-alexandra-carter/ 
#YAPLive: Negotiate Like A Boss With Chris Voss & Alex Carter (Uncut): https://www.youngandprofiting.com/yaplive-negotiations-mastermind-w-alex-carter-and-chris-voss/
Ask for More by Alexandra Carter: https://amz.run/5LYE 
Never Split the Difference by Chris Voss: https://amz.run/5LYF 
The Black Swan Group: https://www.blackswanltd.com/home