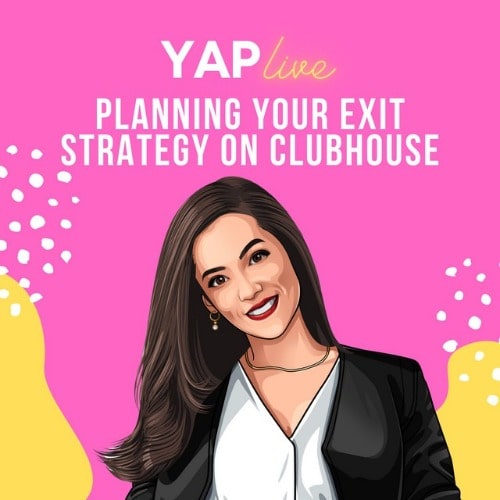 YAPLive: Planning Exit Strategy with Sharon Letcher
YAPLive: Planning Exit Strategy with Sharon Letcher
Join Hala for a live Young and Profiting Episode with Sharon Letcher on Clubhouse! 
Sharon Letcher is the New York Times best-selling co-author of Rich Dad Poor Dad and fourteen other Rich Dad books.  She is also the woman behind the revamped Napoleon Hill Think and Grow rich series, and has advised 2 US Presidents – George W Bush and Barack Obama – on the topic of financial literacy.
Sharon co-authored her latest book alongside Michelle Seller Tucker, Exit Rich, to help entrepreneurs build their business the right way, as well as fix their existing business so they can exit smart and exit rich!
In this live episode Hala and Sharon are going to be covering how to know when to sell your business, how to assign a valuation, how to leverage Sharon and Michelle's 6Ps to account for the added value of a business, how to target potential buyers and so much more!
Sponsored by –
BrandCrowd – Check out brandcrowd.com/yap to learn  more, play with the tool for free, and get 73% off your purchase.  
Mint Mobile – To get your new wireless plan for just 15 bucks a month, and get the plan shipped to your door for FREE, go to mintmobile.com/yap 
Jordan Harbinger – Check out jordanharbinger.com/start for some episode recommendations
Constant Contact – To start your free digital marketing trial today, visit constant contact dot com.
Woven Earth – Make Woven Earth a part of your night routine and save 20% on your order with code YAP20 on WovenEarth.com/YAP 
Social Media:
Follow YAP on IG: www.instagram.com/youngandprofiting
Reach out to Hala directly at [email protected]
Follow Hala on Linkedin: www.linkedin.com/in/htaha/
Follow Hala on Instagram: www.instagram.com/yapwithhala
Follow Hala on Clubhouse: @halataha
Check out our website to meet the team, view show notes and transcripts: www.youngandprofiting.com
Mentioned In The Episode:
Sharon's Books: https://amz.run/5HeL
Learn more about your ad choices. Visit https://megaphone.fm/adchoices