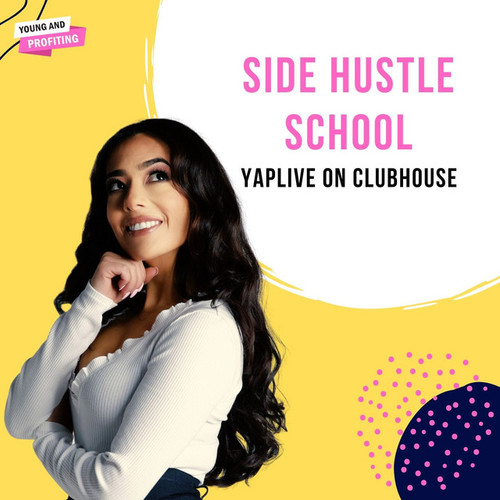 YAPLive: Side Hustle School – Turn Your Passion Into Profit on Clubhouse | Uncut Version
YAPLive: Side Hustle School – Turn Your Passion Into Profit on Clubhouse | Uncut Version
Join Hala for a live Young and Profiting episode with Carrie Bohlig and Craig Clickner. A husband and wife who will discuss how to build a business that empowers you to live your life, your way!
***Meet the Moderators***
Carrie Bohlig – Carrie is co-author, with her husband Craig Clickner of So You Want to Start a Side Hustle: Build a Business that Empowers You to Live Your Life, Your Way.  Based in Wisconsin, she and Craig spend their time raising their young family, keynote speaking, traveling, and entrepreneur in several businesses. These include Tandem Consulting, ClickGlobal LLC, CC Global LLC, and Tandem Writing, LLC. They are now in the process of launching their non-profit, Tandem Giving, Inc. They enjoy the grind, kicking butt with kindness, and making the moments meaningful along the way. They work hard to humanize the entrepreneurial experience.
Originally a world-traveling, preschool teaching feminist, after meeting Craig―a driven, workaholic risk analyst and commercial banker―Carrie joined forces with him to enter the entrepreneurial jungle – together. Today, the duo speaks to roughly 20,000-plus people annually on several continents and have passive revenue streams in place that allow them to spend afternoons with their two kids, write, and start a nonprofit.  
Craig Clickner – Craig is a Speaker, Author, Full-Time Dad & Entrepreneur. Co-Owner@ Tandem Consulting, CC Global LLC, Tandem Giving, Inc., Co-founder at SimplyAutomate, Inc. While building a 14+ year career in Commercial Finance with GE, BMO, & Deutsche Bank Carrie and him simultaneously scaled their first side hustle, Click Global LLC, to $3MM+ in US revenues.
In their 20s/30s, they achieved their primary goal of stepping away from Corporate America. They now consider themselves full-time parents & entrepreneurs. They invest the majority of their days into their young children, traveling, & love playing "entrepreneur" with the skills we have developed.
In 2013 they launched CC Global, LLC. After assisting several professionals in building $1MM+ businesses they began running larger seminars & speaking events across the US, Canada, UK, Caribbean & Australia. They have the privilege of speaking to 20K+ people a year & coaching a few dozen individuals annually. They believe real empowerment occurs through personalized mentorship, not necessarily by acquiring more degrees or getting lost consuming random self improvement or motivational content.