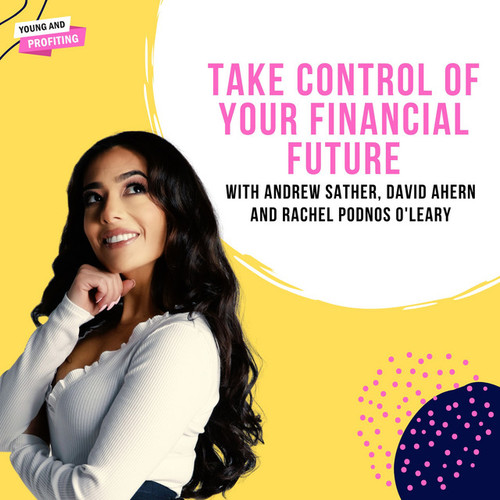 YAPLive: Take Control Of Your Financial Future with Andrew Sather, David Ahern and Rachel Podnos O'Leary
YAPLive: Take Control Of Your Financial Future with Andrew Sather, David Ahern and Rachel Podnos O'Leary
Join Hala for a Live episode of Young and Profiting Podcast featuring Andrew Sather and David Ahern, hosts of Investing For Beginners Podcast and Rachel Podnos O'Leary, Financial Planner and Author of 21st Century Wealth.  They will share actionable advice on making all of the best money moves in order to achieve financial independence, stability, and freedom.
Meet The Moderators: 
Rachel Podnos O'Leary is a Certified Financial Planner and the author of 21st Century Wealth: The Millennial's Guide to Achieving Financial Independence. While her clients span a variety of ages and backgrounds, Rachel is particularly passionate about working with other millennials to help them achieve financial independence through wealth building. Rachel is also a licensed attorney and member of the Florida Bar. 
David Ahern is the Co-host of the 'Investing For Beginners Podcast', a Self-taught investor who focuses on companies he can invest in and hold for a long time. He is also inspired by and eager to find the intrinsic value of companies, and uses that to calculate a margin of safety into any company that he buys.
Andrew Sather is the co-host of 'The Investing for Beginners Podcast', which has received over 1.5 million total downloads. A self-taught investor with nine years of experience, he specializes in identifying value traps and avoiding stock market bankruptcies. He is also the publisher of  eInvestingforbeginners.com and the daily email newsletter, The Sather Research eLetter.
Social Media:
Follow YAP on IG: www.instagram.com/youngandprofiting
Reach out to Hala directly at [email protected]
Follow Hala on Linkedin: www.linkedin.com/in/htaha/
Follow Hala on Instagram: www.instagram.com/yapwithhala
Follow Hala on ClubHouse: @halataha
Check out our website to meet the team, view show notes and transcripts: www.youngandprofiting.com