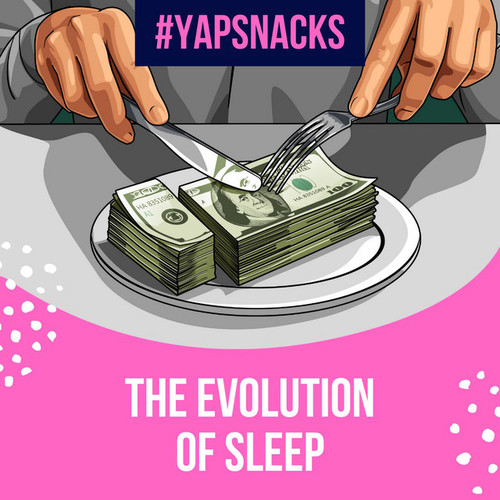 YAPSnacks: The Evolution of Sleep
YAPSnacks: The Evolution of Sleep
Sleep has always been human's constant companion! But what do we really know about its history and growth?
Today on YAP Snacks, Hala will talk about the evolution of sleep while sharing tips and tricks from professionals that we've spoken to in previous episodes.
Sleep is such a popular topic on this podcast because it's ever evolving. The more we learn about it the more we realize that the act of getting a good night's sleep isn't as simple as you may think!
So in this episode we will be looking to the past to see how our ancestors treated sleep, the present to learn how it developed with our rapidly growing society, and then into the future to see what sleep technology has in store for us!
What we know about sleep is still expanding, but it's gone on an interesting journey… So let's get started!
Sponsored by –
Eight Sleep – Go to eightsleep.com/yap to check out the Pod Pro Cover and save $150 at checkout.
Jordan Harbinger – Check out jordanharbinger.com/start for some episode recommendations.
Stitcher – You can download Stitcher for free today at stitcherapp.com/yap
Social Media:
Follow YAP on IG: www.instagram.com/youngandprofiting
Reach out to Hala directly at [email protected]
Follow Hala on Linkedin: www.linkedin.com/in/htaha/
Follow Hala on Instagram: www.instagram.com/yapwithhala
Follow Hala on ClubHouse: @halataha
Check out our website to meet the team, view show notes and transcripts: www.youngandprofiting.com